It is the Echelon season and, Singapore is the first to host its' roadshow this year!
Echelon Roadshow experience will gear you up for the upcoming Echelon Asia Summit 2019 which is taking place from 23rd - 24th May,
Best practices? Things to avoid doing?
Join our Founder & CEO, Mike Davie as he shares his startup story, dispense advises and tips to help other entrepreneurs-enthusiasts in their own entrepreneurial journey.
Agenda
5.00pm - 5.20pm: Welcome Address
5.20p, - 6.20pm: Founders Confessions, Q&A
6.20pm - 6.45pm: Award Ceremony and Announcements of TOP100 Semi Finalists
6.45pm - 9.00pm: Closing Remarks and Networking Session
Speakers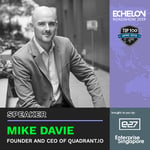 Mike Davie, Founder and CEO, Quadrant
Mike Davie is the Founder and CEO of Quadrant. Currently based in Singapore, Mike has been leading the commercialization of disruptive mobile technology and Information and Communications Technology (ICT) infrastructure for over a decade with leading global technology firms in Asia, Middle East and North America.
Quadrant is a cutting-edge platform designed to allow data professionals to obtain and utilize high-quality, authentic data. Quadrant works with businesses and governments to pinpoint their specific needs and provides solutions that allow these organisations to optimise and tailor the data itself and use it to solve problems.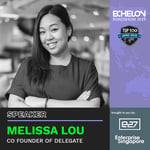 Melissa Lou, Co-Founder, Delegate
Melissa Loud is the Co-Founder of Delegate- a free-to-use online platform that allows you to browse event inspirations, compare event vendors and packages as well as to book event services instantly.
Moderator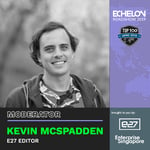 Kevin Mcspadden, Editor, e27
As a the editor for e27, Kevin's main focus is to steer the ship for content and make long term decisions for the direction of e27.
Click on the link below to meet our team members if you are there!
The Quadrant Team