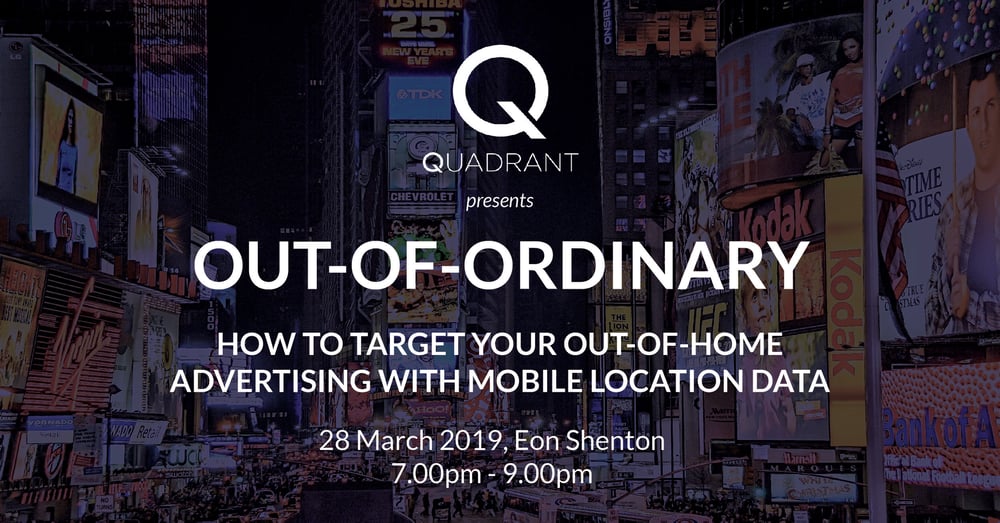 DRIVE CONSUMERS ENGAGEMENT IN THE MOST POWERFUL WAYS
As the out-of-home (OOH) advertising industry becomes more and more sophisticated, marketers are looking to new technologies to help enhance traditional ad formats. But, how do we really ensure the campaigns are effective?
Join us this 28 March for a fireside chat, as our Senior Data Consultant, Glenn Harrison shares how the combination of mobile location data and OOH advertising in your organisation's marketing mix improve your ad campaigns.
Event Details
28 March 2019, 7.00pm – 9.00pm
Eon Shenton, 70 Shenton Way, Singapore 079118
Program
6.45pm – 7.00pm: Registration @ L1 Concierge
7.00pm – 7.05pm: Welcome Remarks
7.05pm – 7.45pm: Fireside Chat with Glenn Harrison, Senior Data Consultant, Quadrant
7.45pm – 8.00pm: Exchange Platform
8.00pm – 9.00pm: Networking, End of Event
Why companies leverage Mobile Location Data for out-of-home advertising campaigns?
In recent studies by Interactive Advertising Bureau (IAB), marketing publishers, marketing service providers and technology developers are expecting an increase in spending on data and data-related services.
These increased investments are aimed at navigating a complex media landscape. The use of mobile location data is taking on an increasingly critical marketing role for all businesses.
The use of mobile location data presentation is recommended for all users looking to identify-
1. Mobile Re-targeting with OOH Advertising
Push targeted advertising to consumers who have seen your OOH messaging and ads.
2. Performance Analysis
Discover which posts within your OOH campaign have the greatest impact, reaching your best audience and show your consumers' behaviour.

3. Location and Creative Pilot
Measure and optimise the effectiveness of your OOH ad locations and platforms.

4. Inventory Management
Location-based ad inventory lead to price premiums which will help to provide you with comprehensive, objective insights as well as analytics across the spectrum of outdoor operators and advertising platforms.

5. Operational Management
The effectiveness of ad campaigns and how they impact visitor traffics to physical stores.
Speakers

GLENN HARRISON, SENIOR DATA CONSULTANT, QUADRANT

Glenn Harrison has worked in data-driven marketing industry for over 20 years, helping businesses enhance their data strategies and marketing campaigns. He joined Quadrant, seeing the company as uniquely positioned to use location data to help businesses optimise their services and better meet the needs of their customers, especially in the ASEAN region. Glenn believes Quadrant has laid a strong foundation and is well equipped to grow and capture market share in this fast growing industry.
Relevant Industries: Travel, Tourism, Media, Advertising, Retailers, Service Providers