We appreciate everybody who has submitted really encouraging feedback regarding our first post announcing "The Week in Big Data" newsletter. This week's newsletter covers news coming out from Apple, MapR and IOTA.
Apple Lets Users Limit App Location Access
IOS 13 will now let users limit app location access to "just once" succeeding the previous model which granting access "always", "never", or "while using" changing fundamentally the insights that could be obtained from data obtained only from one application. This change has been announced by Apple's software engineering chief Craig Federighi at its annual developer conference.
This change will "protect" iPhone users from abuse, while advertisers will need to seek more sophisticated tools from rather targeting data which spring only from one source. TechCrunch has covered extensively those new changes, and how the latest will affect both users and advertisers.
Google-Backed Big Data Startup MapR Warns of Lay Off
Google-backed big data startup MapR which warns that is might need to lay off 122 employees if it can't figure out a strategic transaction- despite the fact that it has raised over $280 million.
MapR Technologies has been once one of the major distributors of Hadoop software failed to secure additional outside funding after an extremely poor first quarter and now must take quick action – including possibly selling the company – within two weeks to keep its headquarters from being permanently shut down. As reported by Datanami, only gave 30 days' notice because company officials thought that giving the notice when it was officially due would hurt its chances of securing outside money to continue operations.
IOTA Launches Coordicide
It has been a big week for IOTA which has announced the launch of Coordicide to unveil the blueprint for the Coordinator's removal – which is described by the company a momentous step towards realizing IOTA's promise as the first decentralized and scalable DLT. The new update introducing scalability without centralization. Though before even the celebrations for this milestone have started, NKN which self-described as the Uber of Internet introducing a network infrastructure for decentralized internet has accused IOTA for plagiarizing NKN's Cellular Automata-based Consensus Model.
The battle has been given on Twitter with executives from both projects intervening. An analytical review of the story has been outlined my many industry's researchers who have analyzed the similarities between the methods proposed and argued if IOTA should have quoted NKN for Coordicide release.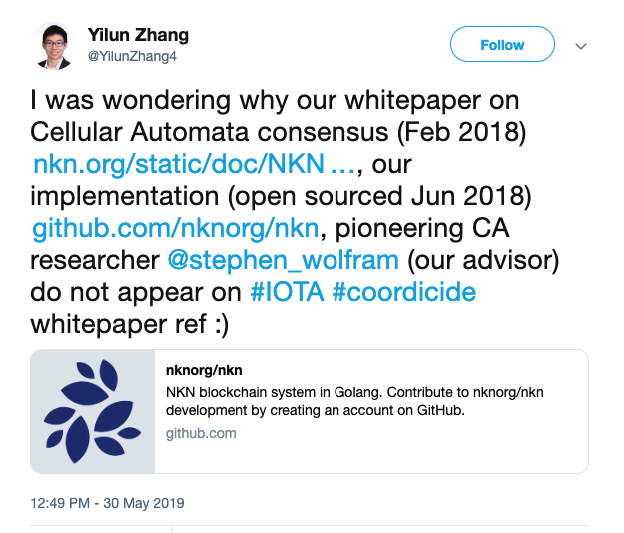 Yilun Zhang Twitter Post- Co-Founder & CTO of NKN . Source: https://twitter.com/YilunZhang4/status/1134185169378656256
We are always looking to hear your feedback on how we could improve our newsletter and make it more resourceful.
Make sure to follow us on Twitter to learn in almost real-time all the important events in the Big Data Industry.