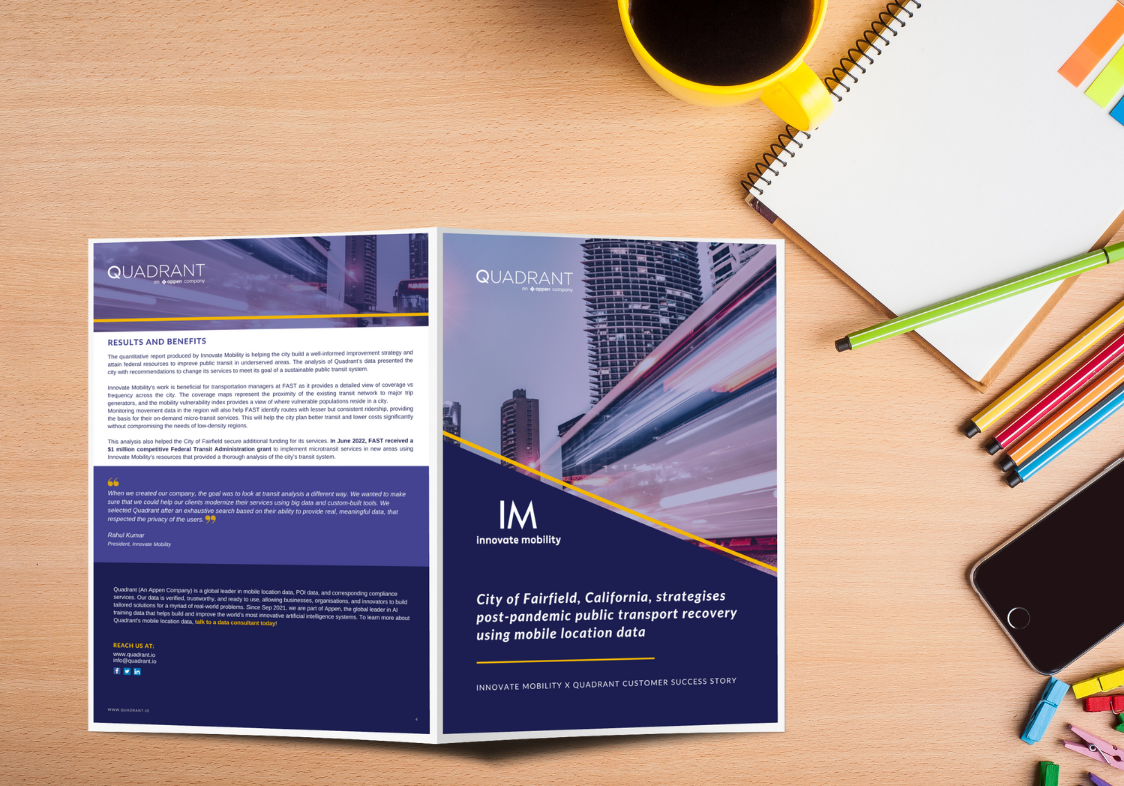 Customer success story:

Innovate Mobility
Learn how public transport experts at Innovate Mobility leveraged Quadrant's mobile location data to improve public transit post-pandemic in Fairfield, California, and helped them secure a $1 million grant.
Innovate Mobility is a leading transit consultancy

that utilises its Software-with-a-Service transit solution to offer data-driven planning services and mobility designs to city administrations, public works departments, and transport companies. By analysing various forms of Big Data, Innovate Mobility delivers actionable intelligence to make transportation networks more equitable, accessible, profitable, and sustainable.


Download the Case Study

to learn how Innovate Mobility used mobile location data to understand changes in people's movement patterns after the pandemic. The team compared these changing commuting patterns with the existing public transit network to advise the Public Works Department of the City of Fairfield on how to redesign their transit services. Their work culminated in a comprehensive report that allowed the city to secure ~$1 million grant to improve its public transportation system. Download the full case study to learn more.
---

"When we created our company, the goal was to look at transit analysis a different way. We wanted to make sure that we could help our clients modernise their services using big data and custom-built tools. We selected Quadrant after an exhaustive search based on their ability to provide real, meaningful data, that respected the privacy of the users."

~ President, Innovate Mobility


Subscribe to our newsletter
Join our community of 60,000+ active subscribers and stay ahead of the game! Our monthly newsletter provides exclusive insights into the geospatial world, featuring the latest trends, case studies, and cutting-edge innovations.