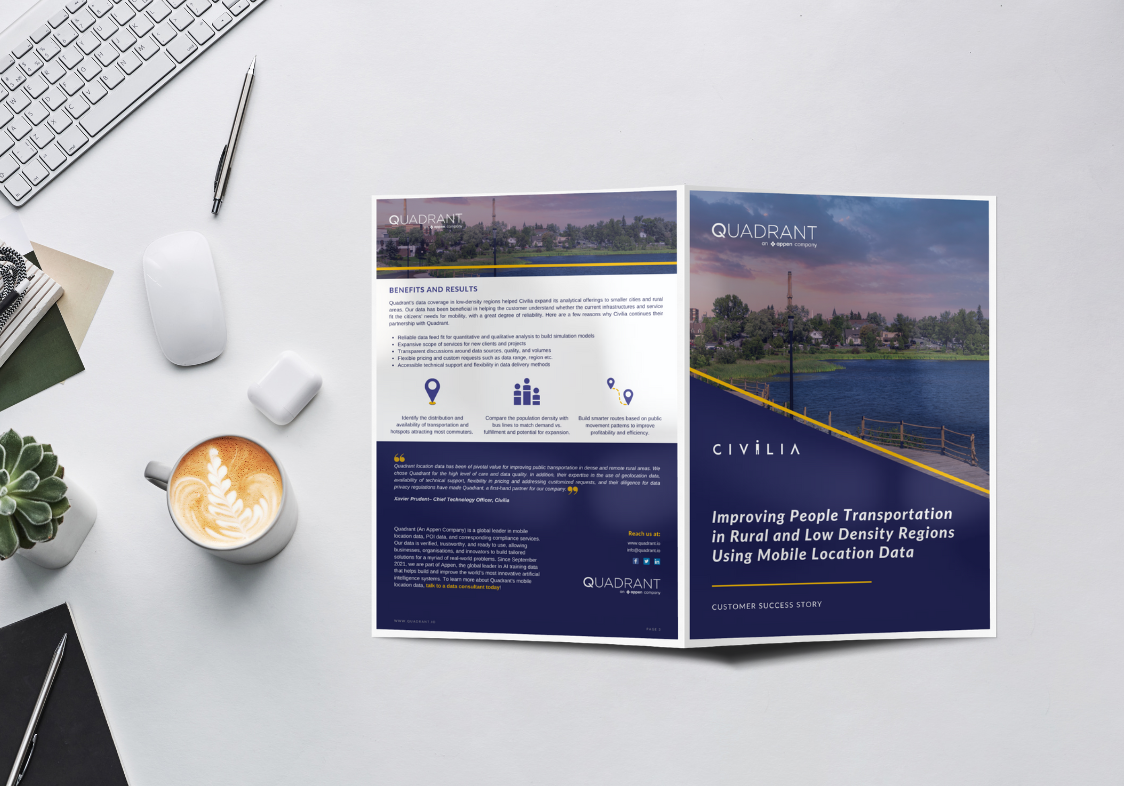 Customer success story:

Civilia
Learn how Civilia's transportation experts and economists are using Quadrant's location data to improve public transit in low density regions of Canada
Improving people transportation in rural and low density regions using mobile location data


Civilia offers holistic transportation solutions for communities, combining deep transport expertise and cutting-edge AI capabilities. They bring a portfolio of practical solutions to help cities improve the flow of mobility within their territory and relationship with their citizens. In addition, Civilia has designed customisable solutions to support public works generating savings and operational efficiency.


Download the Case Study
To learn how Civilia uses Quadrant's mobile location data to power their state-of-the-art AI platforms for parking, sustainable cities, smart vehicles, ad-tech, urban architecture etc. This case study discusses how Civilia used mobile location data to identify and remediate the transportation challenges of citizens in a low density province, and built data-driven suggestions for the city administrations to improve transit facilities.
---

"Quadrant location data has been of pivotal value for improving public transportation in dense and remote rural areas. We chose Quadrant for the high level of care and data quality. In addition, their expertise in the use of geolocation data, availability of technical support, flexibility in pricing and addressing customized requests, and their diligence for data privacy regulations have made Quadrant, a first-hand partner for our company."

~ Chief Technology Officer, Civilia
Subscribe to our newsletter
Join our community of 60,000+ active subscribers and stay ahead of the game! Our monthly newsletter provides exclusive insights into the geospatial world, featuring the latest trends, case studies, and cutting-edge innovations.