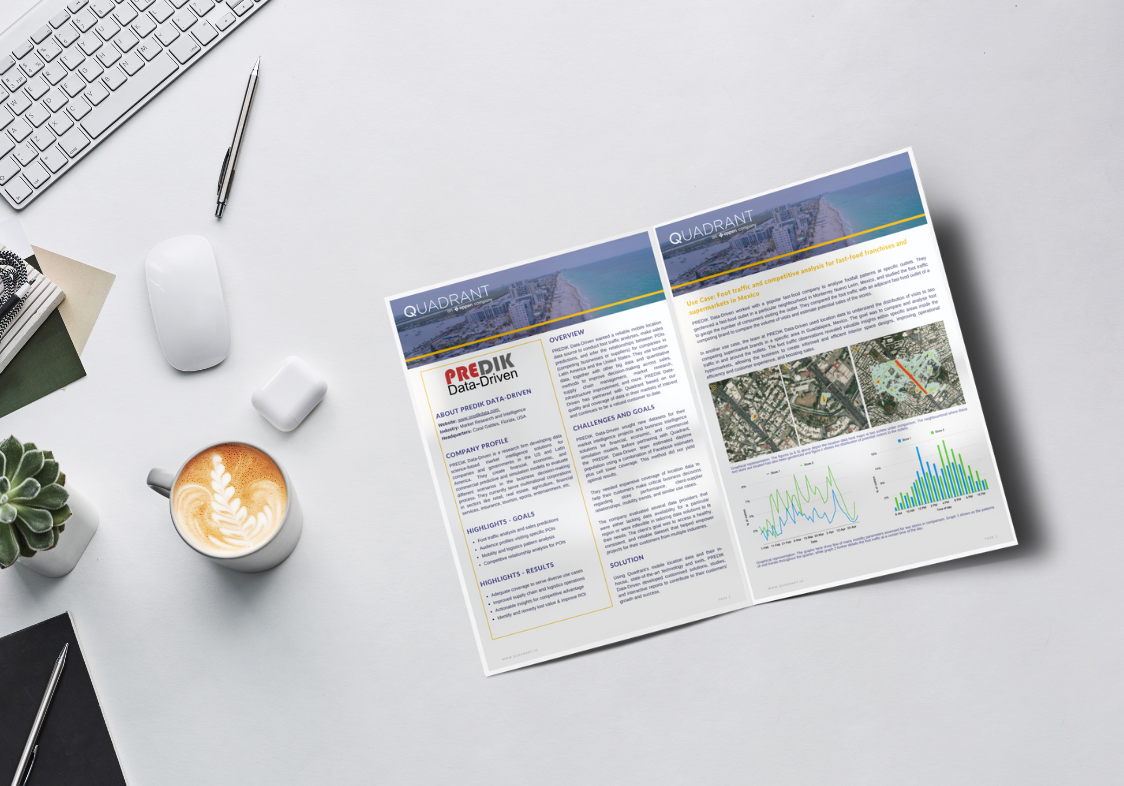 Customer success story:

PREDIK Data-Driven
Learn how a leading market intelligence and research company uses Quadrant's mobile location data to help retail, FMCG, and logistics businesses improve operational and supply chain efficiency.
How PREDIK Data-Driven helps businesses in the US and Latam improve operational and supply chain efficiency with Quadrant's location data




PREDIK Data-Driven leverages mobile location data to enable their data science and market research projects, solving critical operational and efficiency issues for businesses across the USA and Latin America.

Using the insights derived from Quadrant's mobile location data, Predik Data-Driven helps retail, logistics, FMCG, and many other industries improve decision making across sales, supply chain management, market research, infrastructure, and more.


Download the Case Study

to learn about PREDIK Data-Driven's partnership with Quadrant and how they combined mobile location data and state-of-the-art data science capabilities to develop customised solutions, studies, and interactive reports, and enabled their customers' growth and success.

What's inside:
Foot traffic and competitive analysis for fast-food franchises and supermarkets in Mexico


Using relationship analysis between mobility patterns and Points-of-Interest to assess market share and popularity of competing retailers


Optimising supply-chain performance and logistics operations for retail suppliers
---
"Quadrant's data, as well as its technical and administrative support have allowed us to build creative data solutions to many challenges and questions faced by our customers. The fact that it is a global solution opens the possibilities for us to cater to industries and projects around the world. The attention and the quality of the data is good, the technical support is there for us any time we need them to be. Quadrant has also shown a lot of pricing flexibility, to assist us in making our projects move forward. Being a research company, Quadrant's data assets have proven incomparable for us."
~ CEO and Director of Data Analytics and BI (Predik Data-Driven)
Subscribe to our newsletter
Join our community of 60,000+ active subscribers and stay ahead of the game! Our monthly newsletter provides exclusive insights into the geospatial world, featuring the latest trends, case studies, and cutting-edge innovations.