Business Intelligence (BI) and data science companies harness location data to help their clients understand their target audiences better. Insights derived from human mobility patterns can help retailers, FMCG, online services, and many other companies deliver effective marketing campaigns, expand to new areas, measure ROI, and find underserved consumers.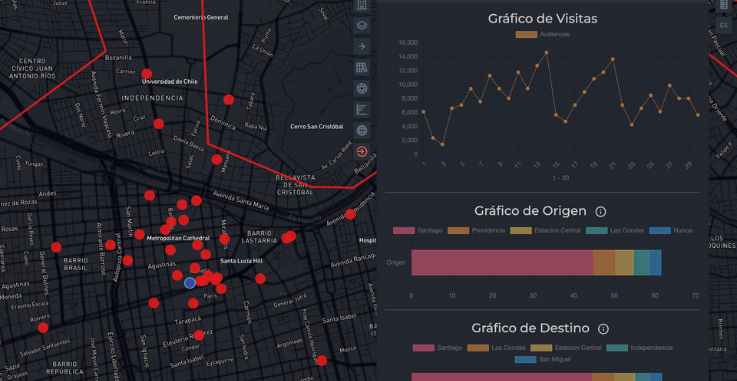 A screenshot of Mapoteca's analytics platform showing O-D analysis for specific POIs based on mobility data.


How Mapoteca delivers actionable BI with location data

Mapoteca is a leading geospatial data hub that develops data infrastructures, algorithms and APIs in Latin America, providing high-quality actionable data and insights for businesses. Their proprietary data visualization platform generates bespoke audience intelligence helping their clients make informed and profitable decisions.
Mapoteca's unique platform enables companies to gather mobility insights at macroscopic (country) and microscopic (neighborhoods or specific stores) levels. By studying foot traffic and visitation data, their clients can identify new avenues for business expansion and make reliable revenue predictions. More importantly, Mapoteca's self-service origin-destination (O-D) analysis, when overlayed with socio-economic index data, allows brands to improve their product strategy for various demographics. Through their intuitive and contextually rich platform, Mapoteca enables businesses to generate actionable intelligence themselves, with only a few clicks – rather than relying on market research and data science firms that can take weeks or even months to deliver manual reports.
To achieve their mission of making mobility-based analyses effective, accessible, and affordable, Mapoteca sought a reliable location data partner. They partnered with Quadrant to procure ethically sourced GPS signals that are consistent and data privacy compliant.
We published a case study demonstrating a few projects delivered by Mapoteca. In this case study we discuss how:
Latam's largest supermarket chain assess the performance of their existing stores by executing visitation analyses through Mapoteca's platform.

Panama's largest FMCG retailer

studies consumer saturation

in various cities to identify sites that are ideal for new branches.

The largest pharmaceutical retail chain in Latin America uses Mapoteca's platform to discern market share and study consumer behaviour in Mexico and Chile.
"Quadrant has helped us to grow faster and be more reliable to businesses in the Latin American region. Also, their immediate human assistance is one of the most important features we look for in a partner. We are happy to keep working with them."

~Founder and CEO, Mapoteca
---
To learn about these use cases in detail, download the full case study.