For several millennia, human beings have delved into alternative realities to entertain themselves and cope with the pressures of everyday life. Until recently, the mediums that enabled these experiences included fictional storytelling, music, art, movies, and TV shows. However, due to the exponential increase in computing power, the last decade has witnessed the rise of the most immersive forms of such mediums to date: Augmented Reality (AR) and Virtual Reality (VR). This blog post sheds light on this growing industry and discuss how Quadrant's POI datasets can enrich AR and VR platforms – now and in the future.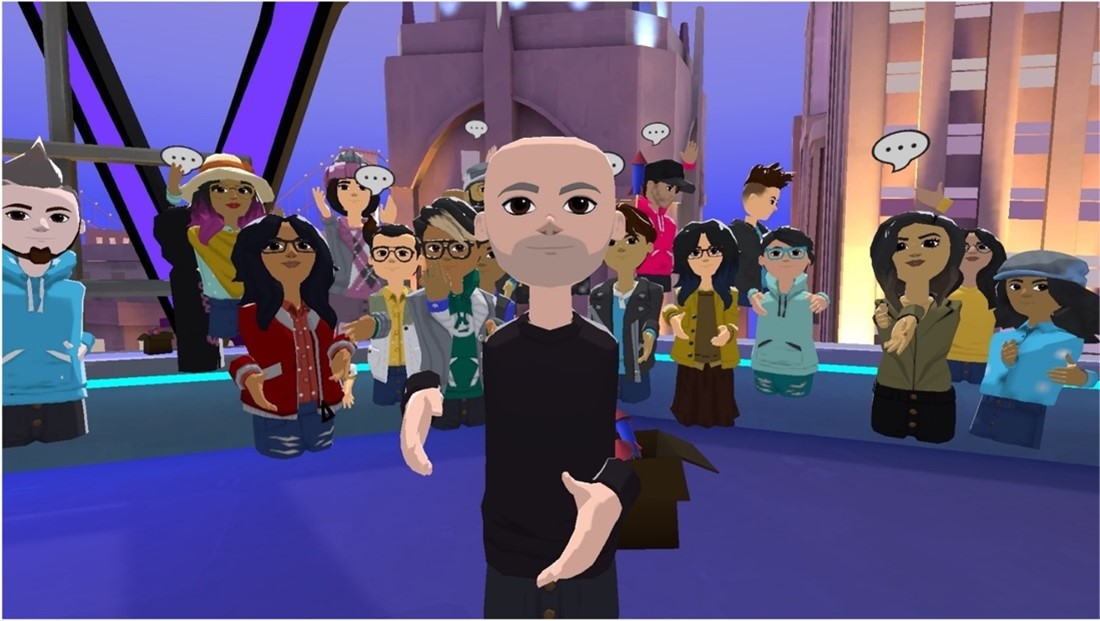 Image: Team Quadrant in the Metaverse during a Quarterly review meeting on AltSpaceVR
The rise of a new industry
AR refers to technology that superimposes virtual objects onto the physical world, while VR refers to a completely digital experience that may or may not be based upon real-world objects and locations. In 2022, the AR / VR industry as a whole is worth approximately $58.7 Billion USD – a figure that is predicted to balloon to nearly $300 Billion USD by 2024. The most successful businesses that manufacture AR / VR devices include Oculus (part of Meta), HTC, and Sony. Companies that develop the most popular applications include Apple, Microsoft, and Niantic (the studio that created the exceptionally popular mobile AR game, Pokémon Go).
This year, Meta (formerly known as Facebook) intends to release Horizon, the first iteration of its VR world. The platform is geared towards providing more immersive experiences, especially when it comes to gaming and professional collaboration. As a response, only a week after Mark Zuckerberg announced his company's aspirations of building the 'Metaverse', Microsoft unveiled its plan to take Microsoft Teams into the world of VR.
AR and VR are built on colossal volumes of data
The key requirement for developing AR and VR applications is access to an enormous amount of data. Augmented Reality, at its core, is simply a data layer above the "default world", and Virtual Reality often aspires to recreate physical experiences wholly or partially.
Appen, our parent company, is supplying AR / VR market leaders with image, video, text, audible, and 3D sensor information. Quadrant lets companies work with another critical data type: Points-of-Interest.
In 2021, we rolled out our proprietary POI collection and verification platform, Geolancer, which delivers accurate, up-to-date, and complete Point-of-Interest data sets, collected on the ground. This data is especially important for Augmented Reality applications.
By using Geolancer's standard attributes, AR developers can superimpose, for example, markers of all the restaurants in an area, complete with addresses, opening hours, and even photos of the establishments.
Many of our clients, however, use Geolancer to gather custom information about places. These can be anything someone on the ground can possibly collect: dietary restrictions of restaurants, pick-up and drop-off points of shopping malls, locations of elevators in a condominium complex, altitude information, custom photos like business storefronts or building facades, and more.
All this data can be used in Augmented and Virtual Reality applications. A developer can recreate a whole shopping mall in VR based on images collected with Geolancer; a taxi driver can find the right pick-up point quicker using AR glasses; an application showing restaurants in Augmented Reality can now do it with true altitude. Imagine looking at a skyscraper through AR goggles and seeing all the businesses marked exactly on the right floor!
Quadrant's long-term AR / VR vision
In its current form, Geolancer is designed to collect Points-of-Interest and images. While the custom attributes already provide tremendously useful data for AR / VR companies, over time Geolancer can be extended to capture other types of information. Panoramic photos, 360-degree videos, audio samples, and even 3D scans – data that will be instrumental in representing places, objects, and phenomena in AR and VR.
Our ultimate vision is making Geolancer the universal oracle for the physical world. Stated differently, we want to be the go-to data supplier whenever a company needs information to represent real-world assets in a digital space.
To learn about how we can support your AR / VR applications with data, fill out the form below so one of our consultants can get in touch with you!