Quadrant's POI Data-as-a-Service platform, Geolancer, is superior to conventional POI data collection tools in many ways. Geolancer's ability to quickly provide high-quality, customizable metadata on demand makes it stand out in a sea of POI data providers. Our bespoke POI datasets allow businesses to increase operational efficiency, build better products, and enhance customer experience.
However, manual data collection and verification is a resource-intensive and tedious process. With Geolancer, one of our major goals is to make custom, recent, and complete POI data more affordable and accessible. To that end, we are consistently working on making POI data collection more efficient. In this article, we describe some of the in-house innovations we employ to gather and deliver high-quality POI data efficiently.
Fast-tracking custom POI collection with Master Blueprint
Geolancer is the only solution on the market that provides custom POI metadata tailored to specific business needs, on-demand. Having tailored POI data and attributes (such as photos, categories, pick-up/drop-off points, etc.) can enable businesses to add appropriate context around their services to enhance efficiency and reduce costs.
To deliver these custom attributes unique to a client brief, new data fields are added to Geolancer's interface. When done manually, this process can be resource-intensive and time-consuming – thereby causing delays in data delivery.
To combat this issue and get our clients the data they need faster, we've built 'Master Blueprint' - a tool aimed at automating front- and back-end development for the Geolancer app. Master Blueprint allows us to add new fields to the app so Geolancers can start collecting the data our customers need as soon as the client brief is received.

Master Blueprint is intuitive and can be operated without any programming expertise. Our project managers can effortlessly utilize it to create new fields as needed. For example, the number and type of photos required, local names of places, pick-up/drop-off points, and more. Once the desired fields are selected, the corresponding back-end code is generated simultaneously, so the administrator can instantly preview the output and review how the app will appear to users.
The Master Blueprint can deploy even the most demanding and detail-oriented projects rapidly – thereby ensuring our customers receive their data as soon as possible.

The image (left) shows a preview for a screen capturing alternative/local names for POIs. The image on the right depicts a screenshot of an app preview generated via the Master Blueprint for a campaign that focused on data and attributes for EV charging stations.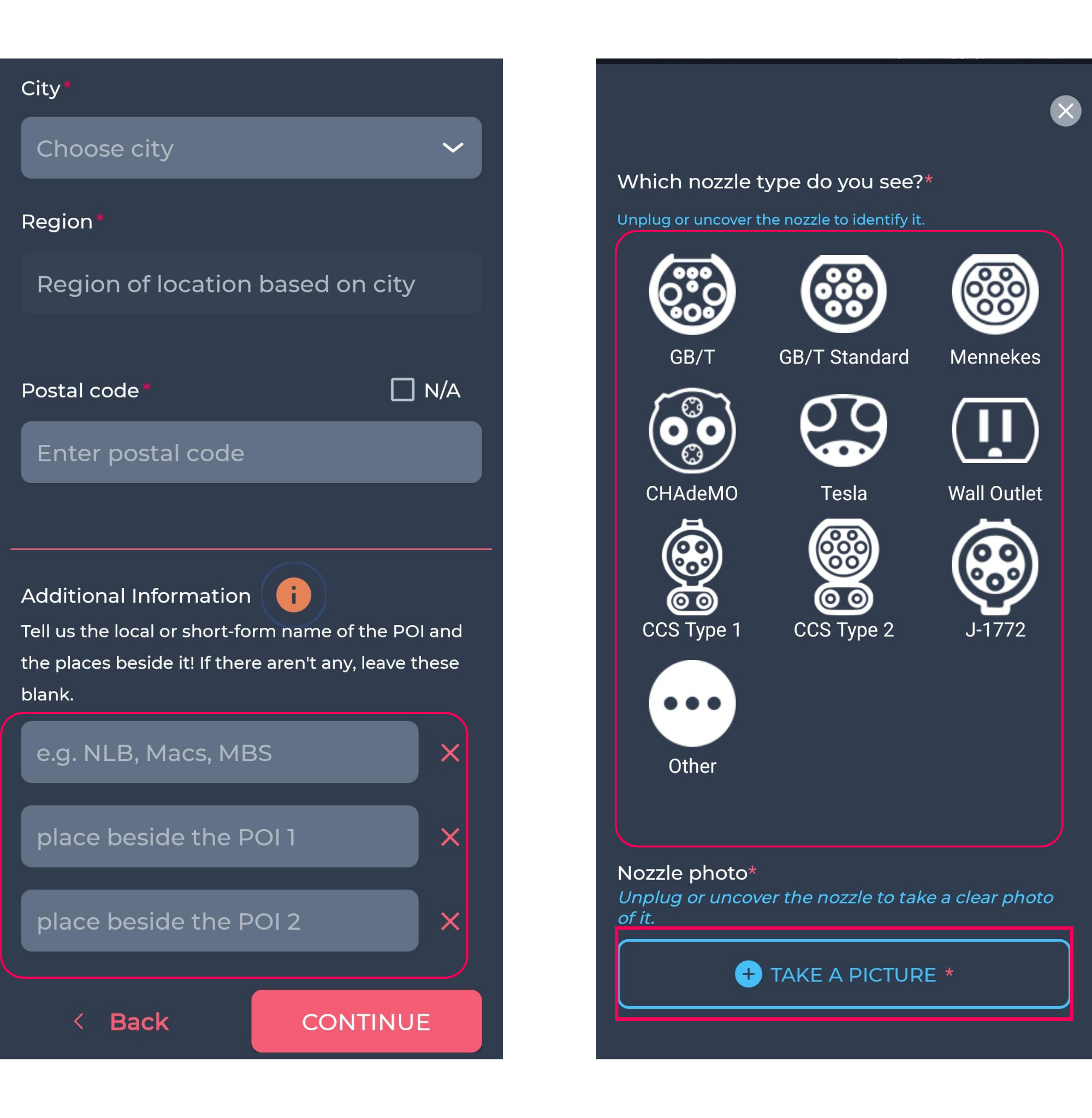 Reducing time for in-field collection
Geolancer is accurate and versatile because it relies on people to collect and verify data on the ground. The faster Geolancers can get through individual POIs, the more data they can collect. To enable this, our data science team has built proprietary text recognition algorithms that extract text from POI photos.
The in-built AI model suggests location name, category, etc. and Geolancers can just tap on the right option to populate the field. These automated suggestions alone will cut down the time required for data collection and verification significantly. We are constantly innovating similar algorithms to extract more data to auto-populate operating hours, phone numbers, street names, addresses, and more. This will allow us to gather and deliver data to our customers even faster.

Maintaining high-quality POI datasets
All POI data are subject to significant scrutiny before they make it into our final dataset. All POIs and their associated attributes are reviewed by our in-house QA team, and if needed, "sent back" to the app for an on-the-ground peer review.
As Geolancers are rewarded for their efforts with EQUAD (Quadrant's Ethereum-based, native cryptocurrency), we see some instances in which individuals try to cheat the system. To make sure erroneous data never makes it into our customers' dataset, we have developed robust algorithms and processes to identify and eradicate fraudulent activity almost immediately. One of the ways we achieve this is by studying movement patterns and blacklisting Geolancers with unusual moving patterns (that are not humanly possible).
Further, in addition to providing much-needed context and accuracy, photos also allow us to monitor Geolancer activity in-field. A lack of photos will result in an automatic rejection for a location and that POI would never make it into the database.

Cleansing PII from user-generated photos
Photos collected via Geolancer, especially in densely populated areas, can inadvertently capture Personally Identifiable Information (PII) such as faces, vehicle number plates, etc. To remove such sensitive information, we subject all images to a PII screening. Within a few seconds of an image being uploaded to Geolancer, it is analyzed by an in-built AI model. If PII is found, the algorithm identifies and blurs it, and the original image is replaced with a PII-free image. Afterward, our in-house annotation team re-checks these images and manually blurs PII that might have escaped the AI model.

The images below have been passed through our PII blurring algorithm.
We are on a mission to deliver custom POI data feeds (along with standard POI data) without compromising on quality or adaptability. Our commitment to consistent innovation makes us a valuable partner for businesses that need top-notch POI metadata under tight deadlines. Through the internal tools we've highlighted in this article, Quadrant drives down data collection costs and makes bespoke POIs more affordable for customers, making us the most versatile, reliable, and efficient location data partner.

---
Interested in leveraging Quadrant's high-quality, custom POI metadata to bolster your business' performance? Fill out the form below and one of our POI consultants will contact you soon.