Countless platforms are powered by Point-of-Interest (POI) datasets that are outdated. More importantly, these datasets are not even tailored to the unique requirements of different businesses. For instance, even though a restaurant represents one POI, a specialised search engine will need information on the dietary restrictions that are catered to by the establishment while a food delivery platform needs to know if it has a drive through – data that represents distinct, custom attributes. Most off-the-shelf POI data vendors only offer standard POI attributes such as name, coordinates, address, and category. Additionally, these vendors do not have the necessary mechanisms in place to ensure their information is up to date with changes in the physical world. To tackle this issue, we created Geolancer (a proprietary POI Data-as-a-Service platform) that provides businesses verified, up-to-date, and bespoke datasets.

In this article, we share the unique attributes collected by Geolancers that most off-the-shelf vendors do not collect or offer. Taken from our most recent projects, all attributes showcased here demonstrate the customisability of our POI offering and validate the need for diverse and sought-after POI attributes that are valuable to businesses today.
Helping a ride-hailing app in Asia improve its services
A popular, Southeast Asian ride-hailing service wanted to reduce delays and cancelled orders by fortifying their digital maps. To help them achieve this objective, Geolancers collected POIs of pick-up and drop-off points of various residential and commercial locations in Vietnam and Singapore. In addition to photos of the POIs, we also provided valuable information such as the POI of a nearby building or landmark, the availability of rain-shelters at the POIs, and the types of vehicles allowed there.
Image 1 shows a pick up / drop off point recorded at a residential POI and Image 2 shows a pick up / drop off point at a commercial POI. These images will help drivers locate the points easily and direct passengers to the right spot to meet the driver.

During another project with the same company, we collected POIs for commercial locations and added local names for these businesses (denoted as 'synonyms').

Image 3 shows the entrance to a commercial POI (name: Naid Reno & Design | synonym: Mister Rempey). Image 4 shows the entrance to another commercial POI (name: Universal Westech (S) Pte Ltd | synonym: Quintech Scientific Pte Ltd). Both standard names and synonyms were included in the dataset provided to the client - allowing their driver partners to readily identify the locations riders are referring to.
Enriching a popular mapping & routing application with EV charging station data
With the number of Electric Vehicle (EV) owners increasing steadily, it is vital for mapping and navigation platforms to include locations of charging stations to help users plan their journeys. One such platform partnered with Quadrant to collect POI data for EV charging stations across Amsterdam. Besides collecting POIs and associated photos, we collected a host of custom attributes that are essential for EV owners, including: pricing (maximum, minimum, per hour, per kWh), forms of payment, number of charging nozzles, photos of charging nozzles with QR codes, nozzle types, nozzle output (voltage, current, power etc.), operating hours, station manufacturer, and station model. While conducting the project, we discovered that 11% of POIs on a popular mapping platform were incorrect and most POIs across all control databases lacked vital contextual information like street views, types of nozzles, and so forth.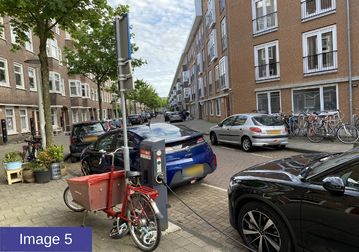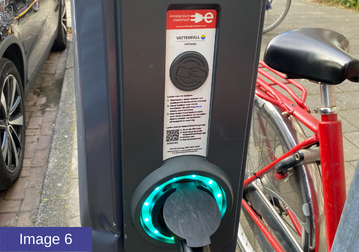 Image 5 shows a photo showing a EV charging station with its street view while Image 6 shows a close up of the charging stand showing specs, payment methods, and QR code. Such information makes users know if charging stations offer support for their vehicles.

Learn more about this project by downloading the case study

Enabling a leading geolocation technology company to enhance their digital mapping solutions
A prominent European mapping and navigation company partnered with us to procure high-quality POIs across several regions in Brunei. The project was unique because the client wanted the latitudes and longitudes to mark a point just beyond the entrance of the POIs. Since Geolancers could not enter private residential and commercial POIs, our QA team processed the data post-collection to meet the client's requirements. Besides POI photos, we also provided photos of street signs – a custom attribute requested by our client.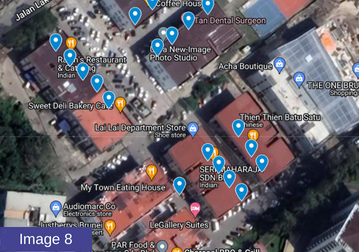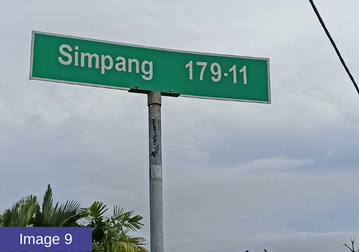 Image 7 shows POIs collected within a region through Geolancer, while Image 8 shows the same region with standardised POIs produced after processing by our QA team. Image 9 is a photo of a street sign collected (custom attribute).
Learn more about this project by downloading the case study
Adapting Geolancer for different commercial briefs
For each project that involves custom POI attributes, we adjust our platform to make it easier for Geolancers to collect data. Below are some screenshots from our platform from the aforementioned projects.
Image 10 is a screenshot from Geolancer that shows the custom fields to be collected such as postal code, POI synonym etc. for one of the ride-hailing projects. Image 11 and Image 12 shows the custom fields to be collected for the EV charging station project, including nozzle type, number of nozzles, various output parameters, and so forth.
Custom POI attributes that are experiencing greater demand
Most businesses are aware of the role that custom POI attributes can play in making their operations smoother and increasing their accessibility to customers. Here are a few examples of such businesses and how they stand to benefit from bespoke POI datasets:
Food & Last Mile delivery: Attributes like pick-up and drop-off points, photos, opening hours, vehicle restrictions, and parking availability can empower delivery personnel to do their jobs accurately and efficiently.
Logistics: POIs that represent loading and unloading areas (with relevant photos) can direct drivers and delivery partners to exactly where they are needed – allowing them to expedite operations and free up time for other consignments.
Specialised search engines: Attributes such as photos, the dietary restrictions catered to by restaurants and cafés, seating capacity, and outdoor dining options allow customers to make well-informed decisions.
Retail banks: Information on businesses in an area that only accept cash payments gives banks the knowledge they need to expand their ATM networks – which, in turn, allows them to serve customers better.
Real-estate: Custom metadata, such as street views and POI photos, can allow realtors to give prospective buyers a sense the surrounding neighborhood. Moreover, including POIs that cover essential and non-essential services within an area allows prospects to choose a location that suits their daily needs.
Analysing key business processes and products through a 'location-centric' lens allows companies to identify growth areas. By becoming the go-to vendor for bespoke POI datasets, Quadrant helps businesses build better products, increase operational efficiency, and enhance customer satisfaction.
---
Interested in learning how high-quality, custom POI datasets can benefit your business?
Get in touch with our POI consultants.