As users, we are not surprised to discover that a restaurant or a store on the map does not exist in the real world. It might have closed, moved, or never existed in the first place. Low quality POI datasets might be a mere inconvenience in our personal lives; however, this is a multi-million dollar issue for businesses.
Until recently, we couldn't even tell how big the problem is. After collecting and verifying 5,000 electric vehicle charging stations in Amsterdam in person, we have an answer: it is enormous.
We discovered that more than 14% of the locations in the city's database were incorrect, and more than 11% of the data from a popular mapping platform was outdated. And this is just the tip of the iceberg.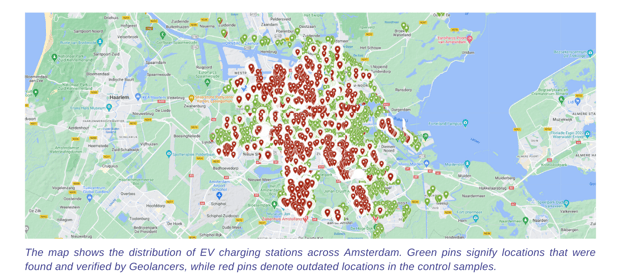 Existing POI databases are built using conventional collection methods (web scraping, crowdsourcing platforms, and managed services) - solutions that are constrained by issues pertaining to accuracy, scalability, cost, and customisability. We built Geolancer, a manual POI collection and verification platform, to address these issues head on.
Geolancer's superiority becomes obvious looking at the results of our POI collection project in Amsterdam. Our client was a technology company that wanted to enhance their digital mapping platform. They had previously attempted to do so through a crowdsourcing solution but had encountered several obstacles, including issues with scaling the project and implementing a recurring POI re-verification protocol. To gauge Geolancer's feasibility for their use-case, they instructed us to collect EV charging station data across Amsterdam.

In just 4 weeks, we lauched Geolancer in Amsterdam and enlisted 36 Geolancers (freelancers who use our platform for crypto rewards). These Geolancers collected approximately 5,000 POIs, 50,000 related photos, and 4,000 additional attributes.
To measure our work against some existing databases, we compared our findings with a popular mapping platform, the local administration's POI datasets, and an EV charging app used by locals.
Our findings cemented our belief that existing datasets are not keeping up with the rapid evolution of urban landscapes. Here are some of our findings that lend credence to this claim:
11% of locations in a popular mapping platform were incorrect

14% of locations in the city's public database were incorrect
The popular EV charging app lacked key attributes (such as photos and EV charging port type) for most stations / POIs
The mapping platform had POIs not updated for over 2 years
6% of the charging locations in the control database were private (not accessible for public use)
All control databases were characterised by a significant dearth of important contextual information (such as street views, types of charging nozzles etc.)
With the help of Geolancer, we managed to create a highly accurate and comprehensive database that offers a wealth of contextual information. Our solution identified outdated or incorrect information in control databases, established the locations of existing charging stations, and supplemented POIs with custom metadata in a manner that was both efficient and cost-effective.
To learn more about this pilot project, download the complete case study!
Interested in harnessing accurate, custom, and on-demand POI data for your business? Fill out the form below and one of our consultants will get in touch shortly.