In the last eight years, the public discourse and the regulatory environment around privacy have changed dramatically. Snowden's revelations, 2013. GDPR, 2016. CCPA, 2018. Seeing the demand for increased privacy, Apple will soon introduce changes that will give people even more choice over what they want to share with companies. But what do all these mean for businesses working with location data?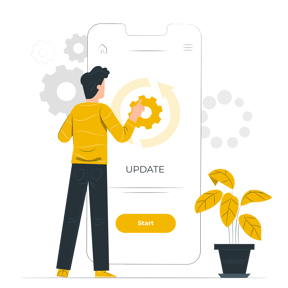 The upcoming changes in iOS are simple, but their impact will be felt across multiple industries. Apple uses a unique identifier called IDFA (Identifier for Advertisers) for mobile devices, which enables advertisers to track activities like ad views or location data without revealing personally identifiable information. Currently, users can opt-out of sharing IDFA, and around 30 percent of them do. In the upcoming update to iOS 14, however, users will need to actively opt-in to share their data with publishers.
In practice, this will mean a rather scary-looking popup on the screen after first launching an app, asking the user to allow tracking. The problem with this is obvious: it does not differentiate between different types of data collection, and it suggests "tracking" is the only use case for collecting such data. In reality, data can benefit the user and enhance the overall experience. Apple is making this much harder, as without opting-in, publishers won't be able to gather IDFAs. Based on expert estimates, only about 10-15 percent of the users will tap "agree."

On the short term, the changes in iOS 14 can dramatically impact DAU and MAU numbers as well as density in mobile location data sets, as users who do not opt-in will have an empty IDFA (all zeroes) associated with them. This makes deduplication and noise filtering much more difficult, and we don't know exactly how the volume of the data we see will change. Still, it clearly creates a challenge not just for the location data industry but also governments doing urban planning or public health management, researchers working on mobility studies, and others.

If these changes originate from a genuine worry for user privacy or they are a tool to guard Apple's bottom line, we do not know. Likely a bit of both. After all, Apple and other large companies will still be collecting first party data and use them to monetise their services. The changes only make the walls of these gardens higher and higher, excluding smaller, agile players to pioneer new use cases. Transparency and compliance are necessary and needed, but monopolising data by the big players clearly hinders innovation.
From day one, we've built Quadrant believing that these innovations in location data can make the world a better place: from daily things like your food delivery arriving faster thanks to intelligent routing to life and death matters like disaster recovery or public health. Location data makes a positive impact in the lives of many millions every day: better public transport helps underprivileged groups, faster delivery helps local small businesses, and urban planning helps revitalise whole cities.
It is paramount that these data are collected and used for the greater good, but it is just as important that we do this transparently and ethically. Finding the right balance is going to be a long process that hopefully results in weeding out irresponsible players in the industry, as well as scaremongering and unreasonable overregulation.

At Quadrant, we welcome this process.

Executing on our mission of transparent data use, we have started working last year on the Quadrant Consent Management Platform (QCMP), a fully-featured CMP tailored to mobile application publishers and developers. It covers the whole user consent lifecycle from gathering consent to providing an up-to-date audit trail, and it can be added into any Android or iOS application with only a few lines of code, saving time, costs, and effort. QCMP is scheduled to launch in Q2 this year.
While we are not happy about the potentially decreasing data volumes, we welcome the trend that leads to transparent data collection and management. We do not want to downplay the challenges our industry is facing; on the contrary, we are addressing them directly and we are spearheading this change.
Join us in developing the ethical data practices of the future – download our eBook about compliance and consent management or talk to our experts directly: