POI data acts as the fundamental building block for digital mapping and navigation platforms. One of our clients – a prominent European mapping and navigation company – wanted to enrich their platforms by procuring a high-quality POI dataset covering several regions in Brunei. To help them achieve this objective, we launched a POI collection campaign in the city (without an already established presence) and successfully produced a dataset of 1500 verified POIs, all with photos. We reached a completeness level of 99.3%, far exceeding the industry standard.
Having specialised in mapping and navigation for many years, our client was well aware of the problems associated with POI datasets that are generated using conventional techniques. They chose to partner with Quadrant because of our ability to scale operations quickly; our platform's ability to collect use case-specific custom attributes that are not present in off-the-shelf datasets; and our superior post-processing capabilities that ensure our customers receive datasets that can easily be fed into their platforms. They provided us with several polygons within which they wanted us to focus our POI collection campaign. We had to collect POI data encompassing all categories, including residential buildings.
We offer POI Data-as-a-Service through our proprietary platform, Geolancer, which allows freelancers ('Geolancers') to earn cryptocurrency rewards for collecting and verifying POIs. After a POI is collected, it must be verified by another Geolancer – after which it is screened by our in-house QA team before it can make it into the final dataset. We offer a degree of versatility and customisability that is unprecedented in the industry by collecting custom metadata on-brief. Besides POI photos, we can collect pick-up and drop-off points for ridesharing and logistics companies, specify the type of plugs available at EV charging stations, or underscore the dietary restrictions catered to by restaurants.
The project in Brunei presented some unique challenges. Most importantly, the client wanted the latitudes and longitudes to represent points just beyond the entrance of the POIs. Since Geolancers could not enter all the residential and commercial POIs, the geographical coordinates were manually adjusted by our QA team so that they met the customer's requirements. The images below showcase the difference between the collected POIs and the modified POIs that were provided to the client.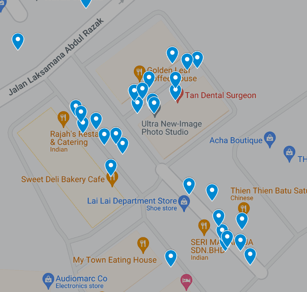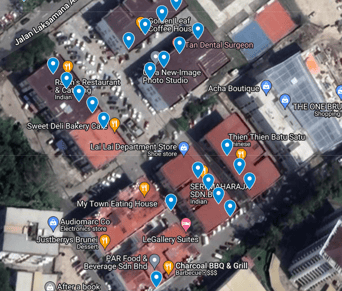 Within 3 weeks, we had successfully completed the project, generating a dataset with 1500 POIs and thousands of custom attributes, including street sign photos, pictures of all the building, and more. We far exceeded the industry standard by providing a dataset with 99.3% completeness.


To learn more about this project, download the complete case study!
Want to procure high quality POI datasets for your business? Fill out the form below and one of our POI consultants will get in touch with you.