For years, Quadrant has been offering high-quality, authentic, and reliable mobile location data. In our interactions with customers and prospects, we discovered that many of them seek Point-of-Interest (POI) data to go with their mobility analysis. Good quality POI data is critical for operational efficiency, especially in sectors like transportation, delivery of consumer services, supply chain logistics, freight, and many others.
However, existing off-the-shelf POI databases are plagued with issues. They are not updated frequently enough, and the way they are assembled -- most often through web scraping -- leads to inevitable inaccuracies.


Geolancer is a unique POI data collection and verification platform designed to mitigate the challenges with off-the-shelf POI data. Our goal is to produce bespoke, on-demand, complete, and manually verified POI datasets for our customers.
The core of platform is a smartphone app used by freelancers – Geolancers – who add POIs on the ground, while walking around in their neighbourhoods. Properties include latitude, longitude, address, category, and opening hours, among other custom, metadata attributes that most off-the-shelf databases don't even collect. Geolancers are rewarded with cryptocurrency for the data they provide or verify.
In the last 12 months, Geolancer grew from a small invite-only beta product to a global platform consistently delivering high quality POI data to the world's biggest companies.
We are especially excited about the 100,000+ storefront photos and tens of thousands of other custom attributes we collected so far. No database in the industry has this vast coverage of POI metadata, and no other platform can execute any client brief as efficiently as Geolancer.

The next year of Geolancer is all about growth: we plan to enter half a dozen new countries, starting with the US just in a few weeks. We aim to expand globally and thrilled to be building bespoke, on-demand POI databases for our clients.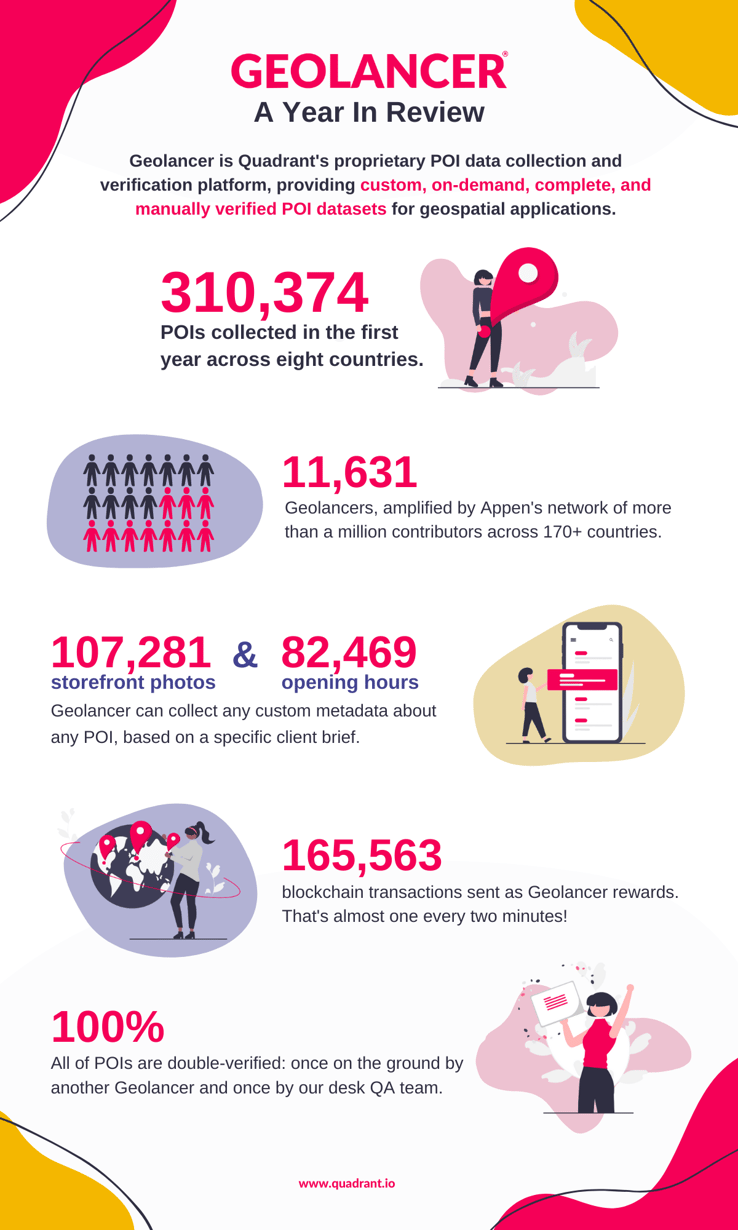 ---
With the digital transformation of businesses, there is an enormous market need for quality POI data. Learn how you can leverage Quadrant's POI data to make better business decisions and improve the foundation of geospatial applications.
Speak to one of our data consultants today.