Urban planners and transport economists need location data to build better cities and facilitate equitable and convenient access to public transit. The movement of people within an area and between various Points-of-interest (POI) can provide valuable insights for city administrations, governments and businesses. Inaccessible facilities and public transit networks impact the socio-economic conditions of people living in an area, and therefore, affect the quality of their lives.
In most complex urban environments, public transit networks that were established several decades ago do not address the evolving needs of people today. Public transport is even more inadequate in rural areas as such regions receive the least amount of attention and investment.
Mobile location data can provide a comprehensive overview of large-scale movement patterns – which can help organizations make informed investments, create well connected cities, and reduce costs. Many of Quadrant's customers leverage high-quality location data to identify and remediate issues in public transportation systems. Let's take a look at some of these success stories and use cases.
Enabling post-pandemic recovery in transportation in California

The COVID-19 pandemic significantly decreased public transit ridership and altered commute patterns across the globe. Post-pandemic, the ridership patterns changed again - forcing transit authorities to reevaluate their services.

Our customer, Innovate Mobility, partnered with Quadrant to power their mobility analysis and generate holistic intelligence reports for the Fairfield and Suisun transit authority. Innovate Mobility is a leading transit consultancy that helps governments and businesses design equitable, sustainable, and resilient public transportation networks. Their unique Software-with-a-Service transit solution leverages big data to make public transportation systems more accessible and convenient.

The goal was to help Fairfield's city administration redesign their transit services in a way that addressed the changes in commute patterns catalysed by the pandemic. Using Quadrant's ethically sourced location data, Innovate Mobility built analytical models to study the differences between pre and post-pandemic movement patterns, gauge supply and demand gaps in the city's public transit network, identify transit deserts, and highlight low-density routes that would benefit from a cost-effective microtransit services.

These analyses gave the city's public works department the intelligence it needed to modify their transit services and helped the city secure $1 million in federal grants to facilitate the necessary developments.



Improving transit routes and infrastructure in Quebec
Our partner and customer, Civilia, is a Canadian urban mobility intelligence firm. They build community-centric transit solutions by combining extensive knowledge on public transport with sophisticated AI capabilities.
Civilia was enlisted to identify and address the shortfalls within the public transit systems of cities in Quebec, Canada. For this project, they needed access to movement data within low-density suburbs and rural areas – coverage that most off-the-shelf location data providers do not offer.
Using their data science expertise, transport economists at Civilia built an O-D Matrix and measured the movement of the population against the distribution of public transit services. By using the insights generated by Civilia, the city administration in Rouyn-Noranda was able to facilitate vital changes such as: improving the availability of buses, optimizing route planning, and expanding transit networks to meet citizens' needs.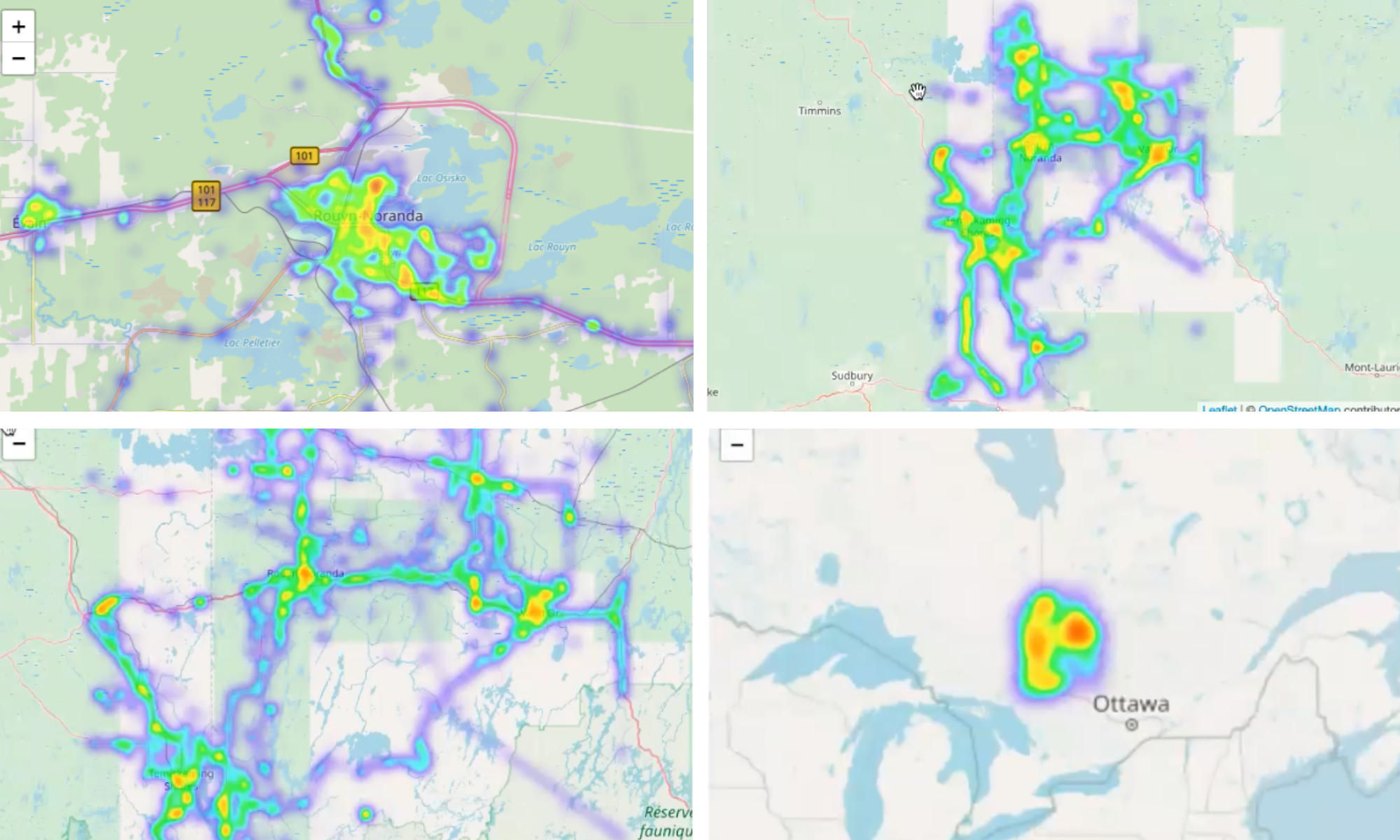 Addressing socio-economic disparities in Mozambique
Researchers and scholars from a public research university utilised Quadrant's human mobility data to determine the availability and accessibility of transit services in Maputo – Mozambique's capital province. Using mobile location data, the research team discovered gaps in Maputo's transit network that highlighted socio-economic inequalities in the region.
Their findings from POI visitation and mobility analyses pinpointed the city's largest trip generation and high demand zones. By combining mobility data with census data, transport infrastructure networks, administrative boundaries, etc. the study highlighted how the access to public transit services can be expanded, improved, and made more equitable.
To learn more about this use case, download the complete case study.

The global need for accessible and far-reaching public transit systems cannot be overstated. This pressing need is well encapsulated by the UN's 11th Sustainable Development Goal – which is to "make cities inclusive, safe, resilient, and sustainable". Transport economists will play an instrumental role in helping countries and cities achieve this ambitious goal. To do so effectively, they must harness high-quality mobile location data to develop public transport solutions that facilitate socioeconomic mobility and improve quality of life.
---

Interested in leveraging location data to develop more effective transit solutions? Fill out the form below and our data consultants will get in touch.