Every year in Singapore, the National Day Parade (NDP) period in August sees a lull for malls as locals travel abroad, resulting in a relatively quiet and unprofitable few days. We can think of this as the "exodus effect".
However, if they plan their marketing and advertising in advance with real-world location data to target potential customers based on footfall across different parts of the city, malls can attract more of the shoppers left in Singapore during the period to shore up their balance sheets.
Looking at the location data
Quadrant analysed footfall traffic at a handful of the most popular malls across Singapore including ION Orchard, Junction 8, Jurong Point, Marina Square, Raffles City, Serangoon Nex, Takashimaya, The Paragon, The Seletar Mall, and The Shoppes at Marina Bay Sands.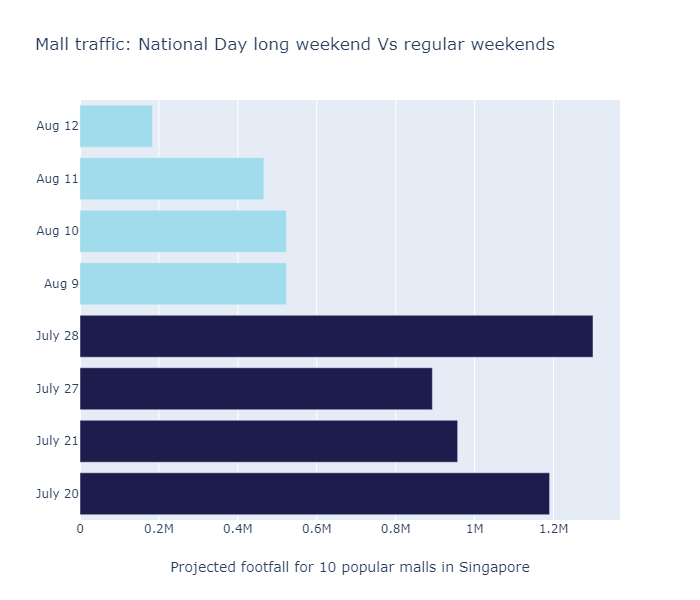 To understand the challenges local business and malls face during this time of year, we compared footfall over this year's NDP weekend against four regular days the month prior (July) to get a true sense of the likely impact to sales as locals go out of town.
What we found is a clear drop in shoppers, with footfall on the NDP weekend down an average of 50 percent versus the four-day sample period in July. It's likely that we can expect sales revenues to be similarly down over the period – in other words, cut in half.
Combatting NDP Malaise
If adequate marketing and advertising measures are not planned to offset this reduction with promotions and targeted location-based campaigns targeting shoppers where they are, malls can expect to suffer measly sales.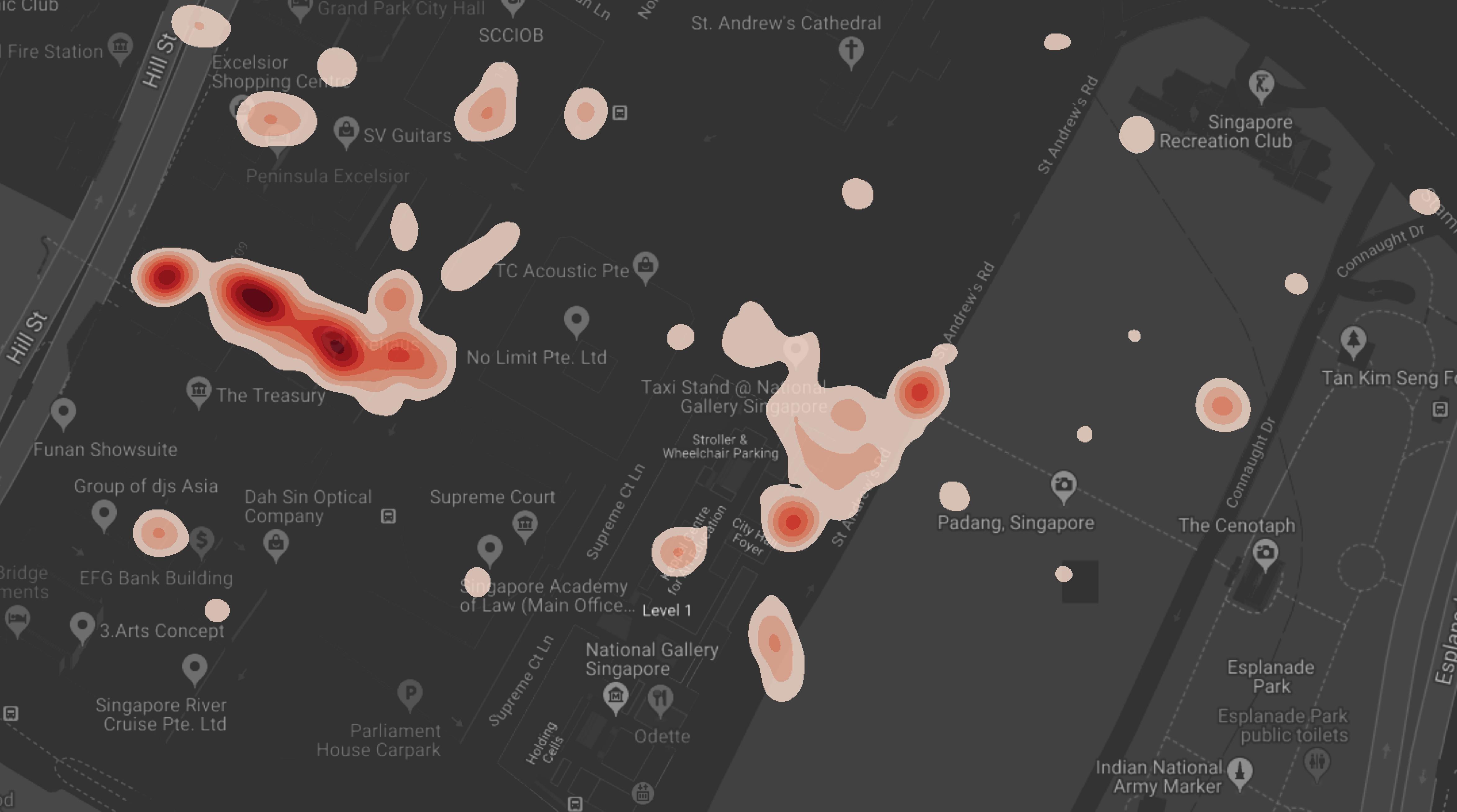 Padang Area Zoomed In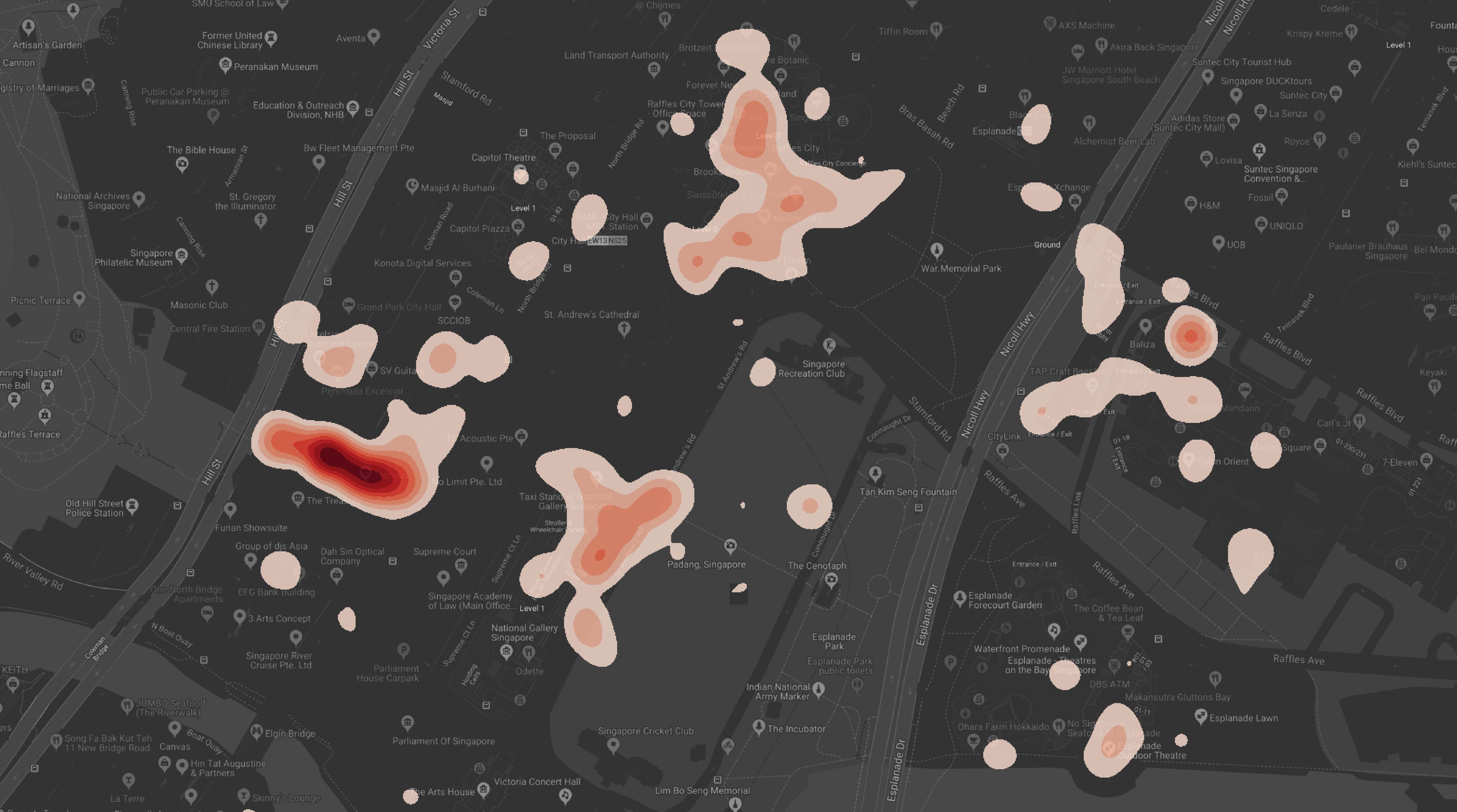 Padang Area Zoomed Out
Recommendations from the Quadrant team would include identifying city hot spots (such as the one above) where potential customers are congregating during the NDP period – and then targeting them with suitable adverts based on their interests and travel behaviour.
Quadrant Audiences, our audience segments products, is the perfect tool for this.
It allows media planners working on behalf of some of these malls in Singapore to derive purchase intent from real-world location data, even during the NDP period, identifying shoppers who would find promotions at a given store most relevant and valuable.
By planning their campaigns in advance and leveraging historical data, malls stand a better chance of attracting customers during this quiet but predictable time of year in Singapore – and ultimately bolstering their bottom lines.
--
If you would like us create a report with findings like these for your business, reach out to me at navas@quadrant.io.