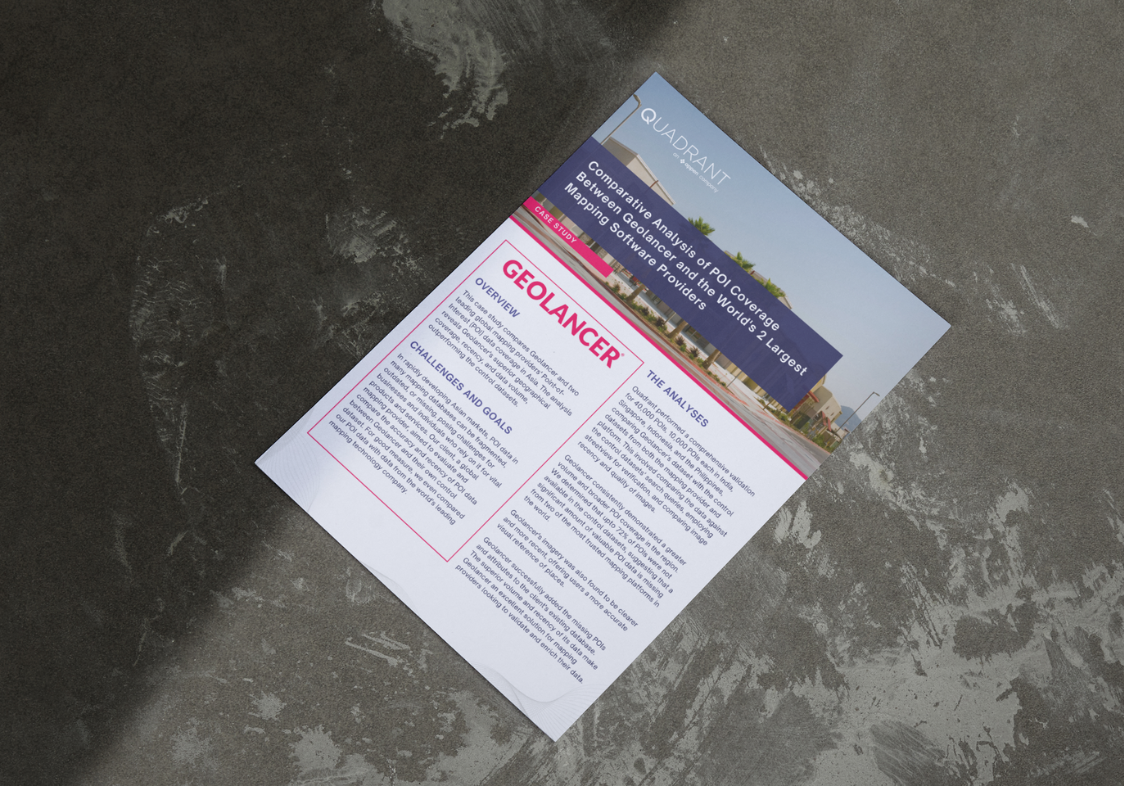 Case study: Comparing POI coverage between

Geolancer

and the world's largest mapping providers
In this case study, we pit Geolancer's POI datasets against those from a globally acclaimed mapping provider and a high-profile mapping platform, seeking to discover which truly stands out. The result? Geolancer not only provides broader geographical coverage and more recent data, but also boasts a greater data volume.
Three of the world's five top mapping companies, as well as several prominent navigation providers, rely on Geolancer's ground-truth POI data to improve their products and services. One of our clients, a global mapping giant, wanted us to compare Geolancer's data against their control datasets to reveal which platform offered the most accurate and up-to-date POI.

To answer this question, we performed an extensive evaluation of 40,000 POI across South and Southeast Asia. We compared Geolancer's dataset with control datasets from both our client and another leading mapping provider. Our case study centers around these comparisons, which involved juxtaposing the data against the control datasets' search queries, employing streetview for verification, and comparing image recency and quality of images.


In this case study we discuss

How Geolancer boasts higher data accuracy and volume

The staggering proportion of valuable POI data that's missing from the most trusted platforms

How the control datasets lacked high-quality images that act as a critical visual reference of places for end-users
Subscribe to our newsletter
Join our community of 60,000+ active subscribers and stay ahead of the game! Our monthly newsletter provides exclusive insights into the geospatial world, featuring the latest trends, case studies, and cutting-edge innovations.