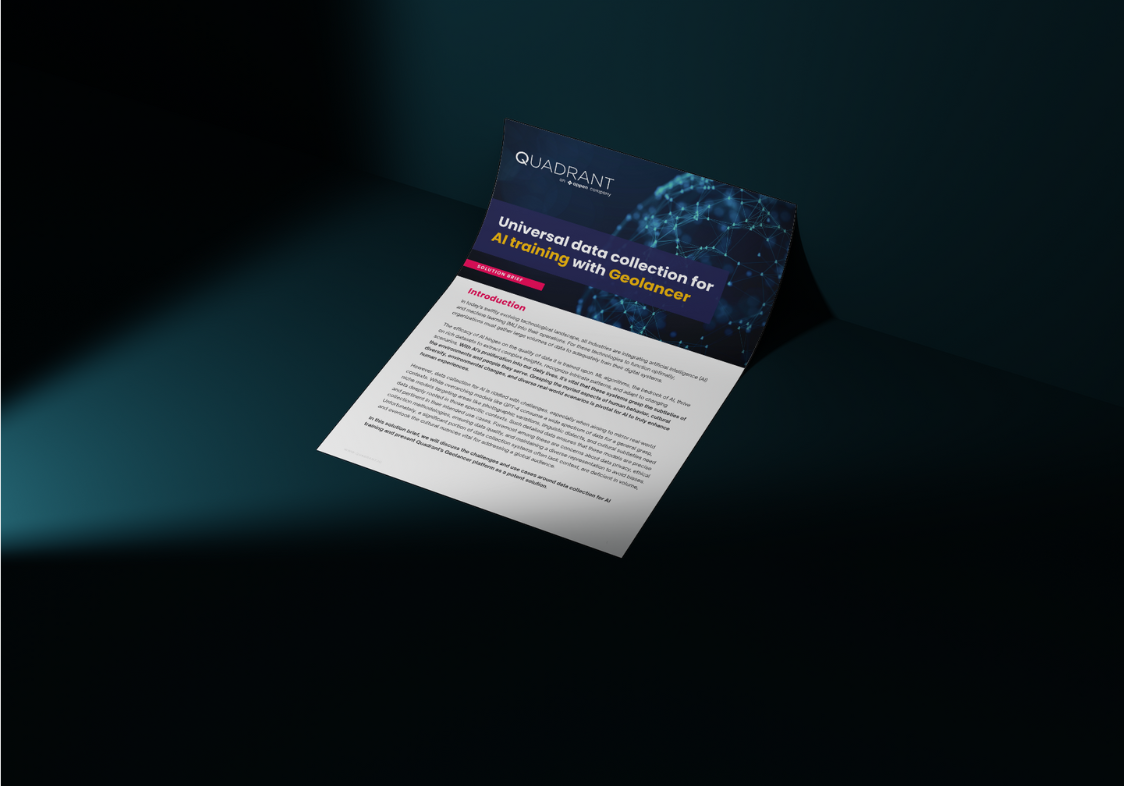 Solution Brief: Universal data collection for

AI training

with

Geolancer
Discover the abilities of of Quadrant's Geolancer platform, a universal data collection solution for AI training and improvement. This solution brief focuses on current challenges, solutions, ethical practices, cultural inclusivity and more. Learn how Geolancer helps AI applications and models comprehend the intricacies of human experiences and real-world context.
Subpar data collection mechanisms limit the accuracy, efficiency, and effectiveness of AI systems. Specialized models targeting specific use cases need vast volumes of contextually rich training data to function properly. However, sourcing such data is inherently challenging.


What You'll Learn from this eBook
The Challenges of Data Collection for AI Training: Understand why AI bias arises and how to mitigate it; the dynamic nature of real-world context; the ethics and legality of leveraging user data; the escalating costs of data preparation; and more.
How Geolancer Addresses These Challenges: Learn how our proprietary Data-as-a-Service platform, Geolancer, provides photos, audio, video, and any bespoke data needed for next-gen AI systems while overcoming these hurdles.
How Geolancer's datasets eliminate sampling bias: Collect custom data based on diverse parameters such as race, ethnicity, household income, the Fitzpatrick Scale, and more.
The Master Blue Print (MBP) Framework: Explore the framework that underpins our Geolancer platform to learn how we deploy customized data solutions - quickly and at scale.
Use Cases: Learn about the applications that Geolancer's data can enable in the realms of speech recognition, image recognition, Natural Language Processing (NLP), and more.
Case Studies: How various firms' AI systems benefited from our diverse and contextually rich datasets.
Subscribe to our newsletter
Join our community of 60,000+ active subscribers and stay ahead of the game! Our monthly newsletter provides exclusive insights into the geospatial world, featuring the latest trends, case studies, and cutting-edge innovations.