The intricate web of connected devices and applications produces a lot of location data. Used in the right manner, accurate and timely geospatial intelligence can be leveraged to boost operational efficiency, improve government and public services, increase marketing and advertising ROI, and expand services to underserved areas.
Recently, Covid-19 has changed how users and service providers interact in the physical world. With the popularity of at-your-door services and digital marketplaces, it is safe to say that we are living in an age when consumer services rely heavily on the digital availability of geospatial information.

Informed by Quadrant's expertise in the location data industry, we have built this exhaustive market map of companies offering geospatial data and related intelligence services in the Asia-Pacific. This market map will help data buyers explore the dynamics of the region and find the right partner for their specific use case. Even though the map focuses on companies operating from the APAC (Asia Pacific) region, their coverage of services might be global.
The companies highlighted in this map include geospatial businesses of all scales. We have segregated the map into three main categories which are further branched into 3 sub-categories of their own.
Data - Mobile, POI, and Geospatial
Data is the raw material for all geospatial applications. These organizations collect data from various sources and refine the data into a usable format for enterprises and end-users. Raw location data is consumed across industries for a myriad of use cases. It can be combined with various other types of data to add more context to the insights derived from it. Raw location data can be derived from in-app SDKs, Bidstream, WIFI connections, beacons, and various other sources of varying qualities.
For example, headquartered in Singapore, Quadrant offers mobile location data all over the world and POI (Point-of-Interest) data in APAC. Our mobile location data feeds are fit for purpose and sourced from high-quality applications through an SDK. Additionally, Quadrant recently launched its POI solution in APAC, built around our proprietary application, Geolancer, to manually collect and verify data on the ground.
Location Analytics - Analytics, Intelligence Platforms, and Consulting
Companies in this category specialise in converting raw data into actionable information and insights for their customers. Some of these organizations translate raw location data into strategic business decisions. These companies often use various machine learning techniques, analytical solutions and algorithms, and provide output in a format useful to the end-users.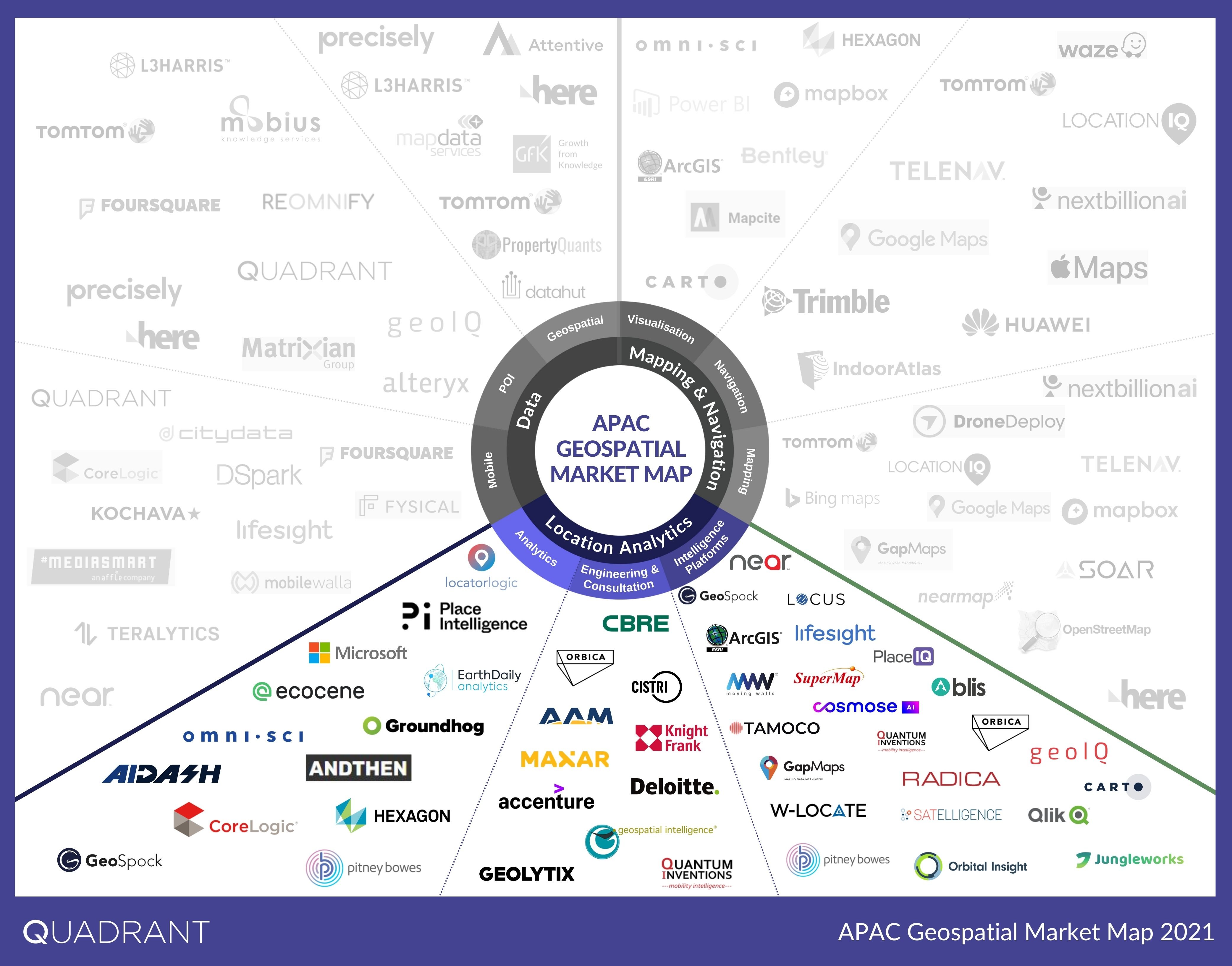 Mapping & Navigation - Visualisation, Mapping and Navigation
These companies use location data to power applications that make users' day-to-day lives easier. This category also includes data visualization platforms that help translate complex data into charts, graphs, and maps, so that location data can be easily understood and consumed by non-technical decision-makers. While the majority of players in this category are mapping and navigation apps that help people find paths and places of interest, they can also be used by location-based businesses to support their operations and logistics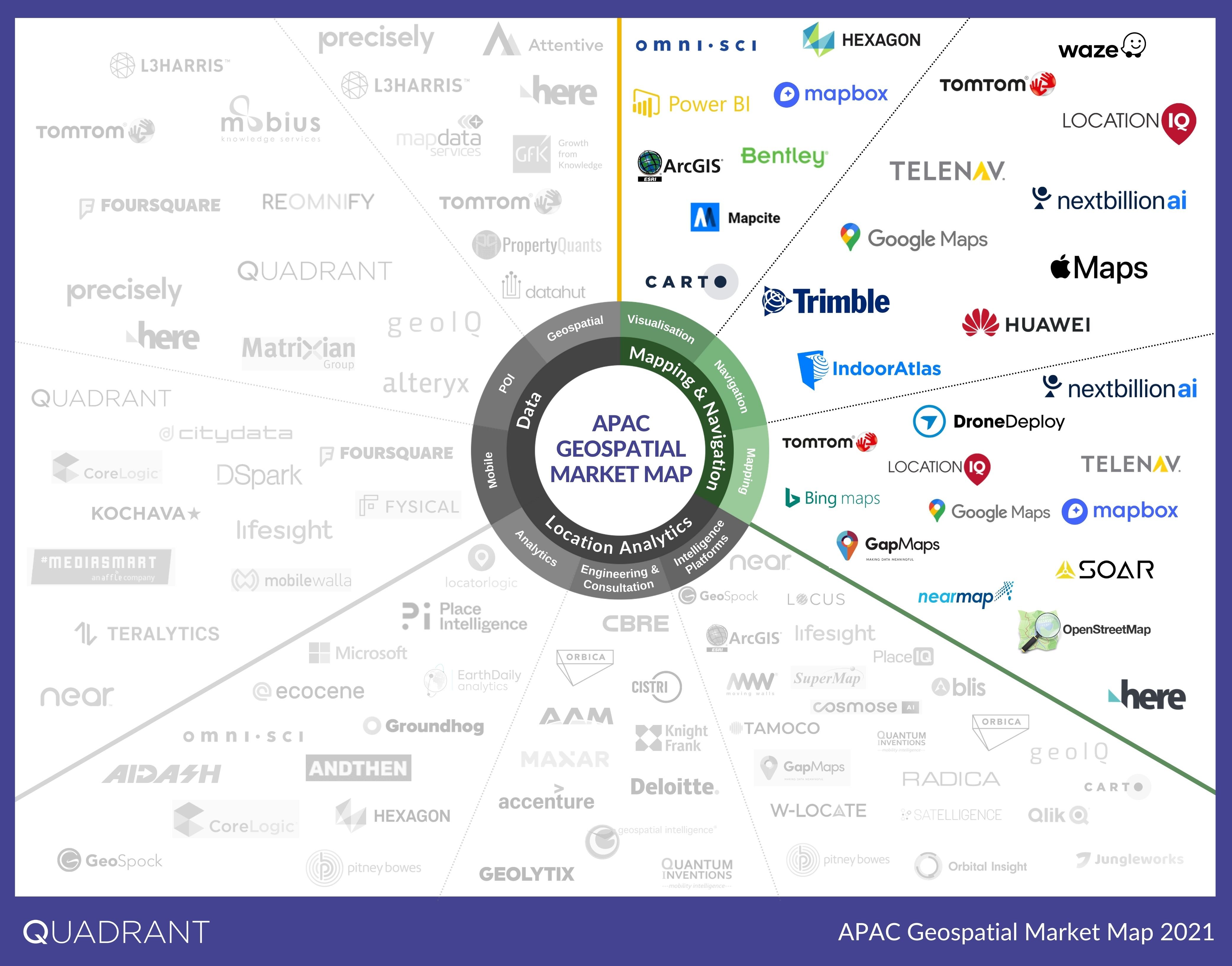 To make the most of location-based technology, you need to find the right partners. This map attempts to categorise location-based service providers, however, these companies might be operating in more than one category.
To learn more about raw location data please check out our buyer's guides to deep dive into the best practices of data assessment before purchase.
---
Looking to buy reliable and accurate location data?
Contact our Data Consultants Today