A few weeks ago, we announced that Quadrant had collected 250,000 POIs through Geolancer. Today, we are excited to share that we have doubled the size of our database to over half a million POIs!
The increasing demand for Geolancer's manually collected, recent, and attribute-rich data has encouraged our rapid expansion. Besides hitting the half-million mark, we are happy to report that three of the world's top 5 mapping companies are now leveraging Geolancer's industry-leading POI data.
Besides rapid growth, we also have other exciting news to share.




India is now a Geolancer country: India is the world's most exciting market for POI data and we had initially planned to roll out Geolancer in the country in 2023. However, our customer - one of the largest mapping platforms - needed to quickly collect custom POIs across twenty cities. Our proven ability to launch, scale, and execute projects (on-demand) in new markets allowed us to take on this task with ease.
Geolancer is the future of data collection: Although Geolancer is primarily known for its POI collection capabilities, it is a versatile platform that can be utilized to collect and verify other forms of data as well. Currently, we are deployed in Mexico, Poland, Brazil, Portugal, Russia, Timor Leste, Malaysia, Myanmar, Kazakhstan, Colombia, India, and the UK to execute a variety of alternative data collection and verification projects. We can mobilize existing Geolancer users in these countries to rapidly collect POIs data as needed.
Quadrant now offers off-the-shelf POI data: We primarily leverage Geolancer to serve businesses with a need for custom POI data. However, many companies require standard POI data for their use cases. To serve these customers, we now offer an off-the-shelf dataset with over 1.36 million POIs across all states in the USA, and we plan to expand the geographical coverage of this solution quickly.
We look forward to boosting Geolancer's growth while maintaining our commitment to making POI data more accurate, customizable, and affordable. By doing so, we will continue to help businesses and governments address a multitude of challenges across the world.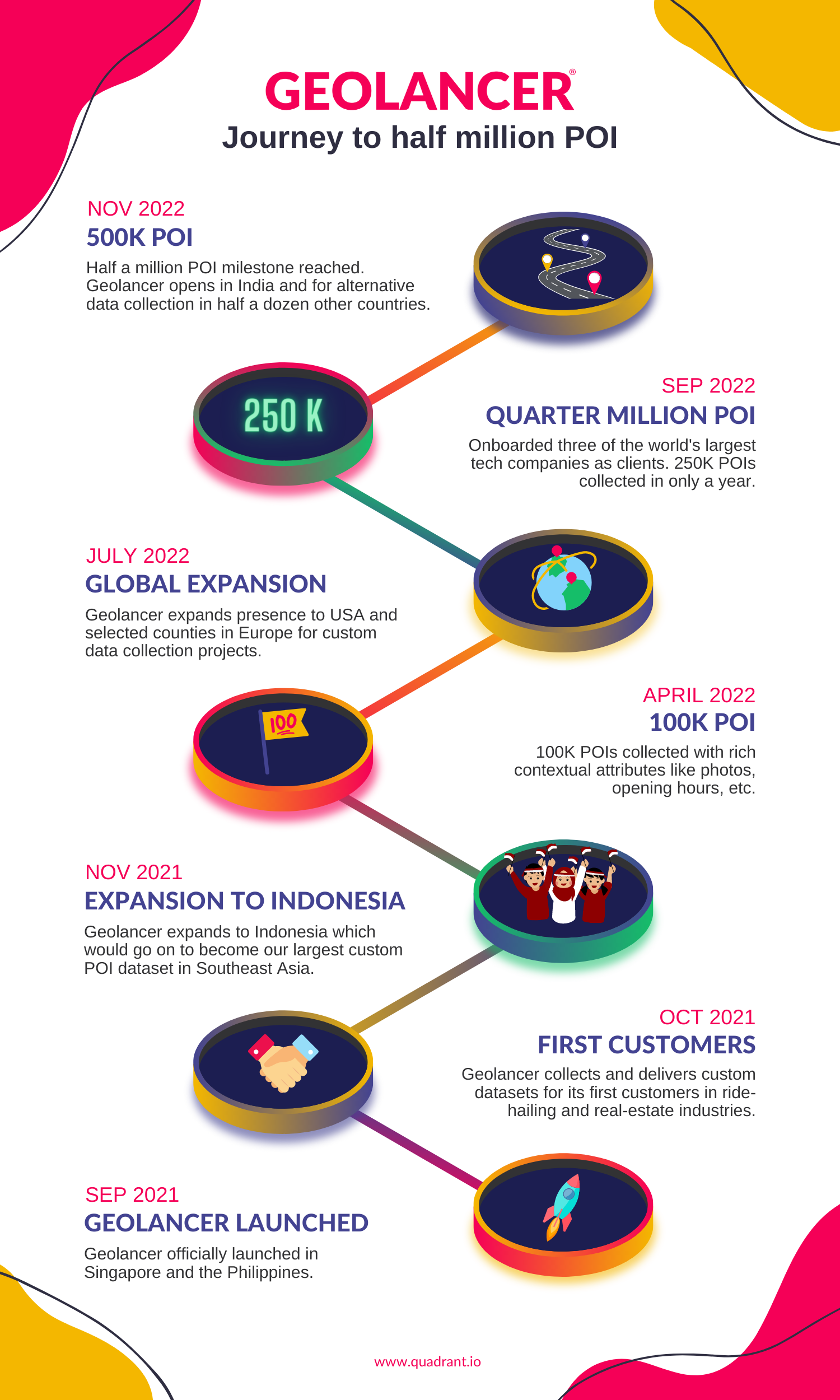 ---
To learn more about our POI offering please connect with our location data consultants today!