Last-mile, food delivery, e-commerce, and postal services companies constantly strive to improve their services and operational efficiency to remain competitive. In this highly saturated space, the quality of location data powering delivery apps and platforms can be detrimental to the efficiency of operations. In this post, we will discuss how location data (mobile location and POI data) enables businesses to locate customers accurately, optimize mapping and routing systems, and minimize the waste of time and resources.
The challenge
Insufficient and low-quality location data can lead to delays and delivery errors, unexpected overheads due to poor planning, and the loss of consumer trust, ultimately affecting a company's bottom line. This is a major issue in the delivery sector as many off-the-shelf POI datasets available on the market are riddled with outdated and incomplete information.

Moreover, they provide no context for real-world navigation, forcing companies to rely on in-field personnel to make the right decision without having any visibility into their actions. For example, off-the-shelf data sets do not accurately mark loading areas and service entrances, due to which delivery personnel can risk wasting time navigating large complexes.

Lack of accurate POI data can also lower the effectiveness of your route planning systems. Poor navigation systems can lead to increased fuel consumption, low productivity and even more customer dissatisfaction.
Optimize delivery time
Apps and platforms powered by accurate POI data can maintain reliable maps, calculate accurate delivery times, identify faster and more efficient routes, and provide correct ETAs. By achieving precision in delivery assignments, firms can cut costs and help their personnel earn more by delivering more.

Furthermore, analyzing mobility data in an area can provide well-grounded estimations of traffic patterns, road closures, and other factors that can impact delivery times. Armed with insights into the obstacles that drivers may encounter along their routes (such as construction detours, unexpected traffic jams, etc.), delivery companies can plan and adjust their schedules as needed to minimize delays or disruptions in service.
Establish physical touchpoints in the right locations
By analyzing human mobility data alongside third-party data (such as census information, purchase data, etc.) delivery businesses can gauge the distribution and density of target demographics across various areas. These insights can be utilized to identify ideal sites for physical touchpoints (self-collection centers). Once established, such facilities can offer customers and prospects more options on how, when, and where they get their goods – a surefire way to improve brand loyalty. Additionally, they provide last-mile logistics firms a way to make up for missed deliveries – and therefore – decrease losses.


Contextual attributes for faster in-field decisions
By mapping key collection and delivery points, accurately classifying areas, and updating in-app information to keep up with changing physical spaces, last-mile delivery companies can: reduce errors, minimize in-field complications for delivery staff, and slash losses caused by order returns, cancellations, and refunds due to consumer dissatisfaction. For example, if a customer lives in a high-rise condo, the delivery driver can be directed to park in a nearby location or use a specific entrance to make the delivery process as smooth as possible.

Quadrant brings accurate, customizable, and up-to-date POI data to help food delivery, courier, and eCommerce firms create cost-efficient logistics and fulfillment systems.
With our proprietary POI data collection platform, Geolancer, we collect bespoke POI attributes (including pick-up and drop-off points, loading and unloading areas, operating hours, photos, etc.) that can enable delivery personnel to do their jobs swiftly and accurately. We pinpoint and map the right pick-up or drop-off locations so your drivers can make quick in-field decisions and make faster deliveries. Depending on the type of customer and the package to be delivered, knowing about the relevant parking options and vehicle entry restrictions can be vital for delivery personnel doing their jobs. This information can also be collected as custom metadata by Geolancer.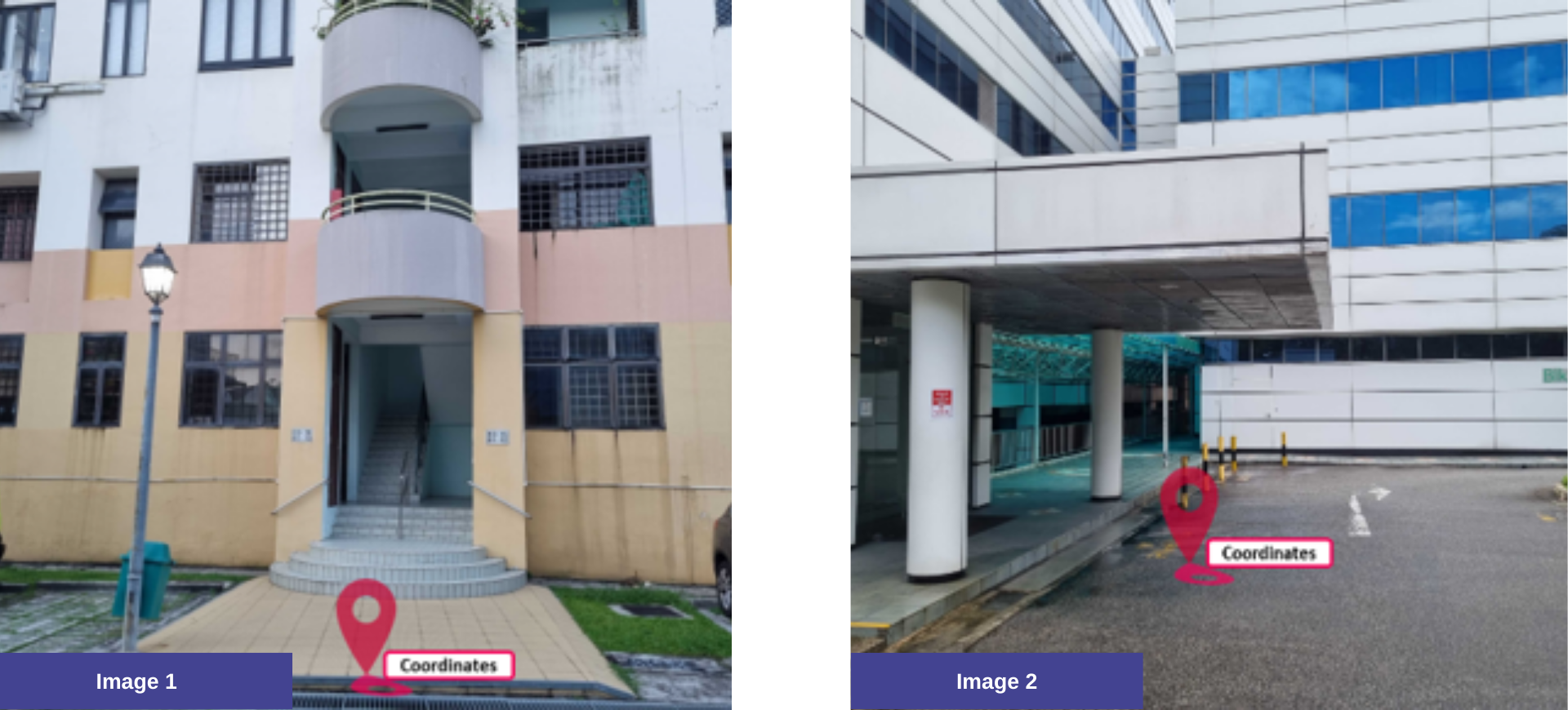 The images above were captured during a custom POI collection project for Gojek - a leading ride-hailing firm. Image 1 shows a pick-up/drop-off point recorded at a residential POI and Image 2 shows a pick-up/drop-off point at a commercial POI. Apps with such POI data can enable drivers to make fast in-field decisions and swift deliveries.
---
Want to leverage mobile location and POI data to tackle the biggest challenges facing your last mile delivery operations? Fill out the form below to speak with one of our data consultants!