Mobile location data is a valuable resource for retailers, as it provides insights into the movement patterns of consumers in the physical world. By analyzing this data, retailers can gain a deeper understanding of human mobility and use it to improve their marketing campaigns, gain a competitive edge, and identify and address operational inefficiencies. In this article, we explore several ways in which retailers can use location data to enhance strategic decision-making, reduce costs, and boost profitability.
Executing effective marketings strategies and measuring ROI
Location-based advertising
Location-based advertising, both online and offline, is an effective strategy for retailers to promote their products and services to the right audience at the right place and time. With mobility data, retailers can identify areas with high foot traffic and launch well-optimized online campaigns in real-time. For instance, by analyzing footfall data around a Banana Republic outlet at Rockefeller Center, the marketing team can push online ads to visitors within areas with the most prospective customers. This targeted, location-based approach can significantly improve conversion rates for digital advertisements.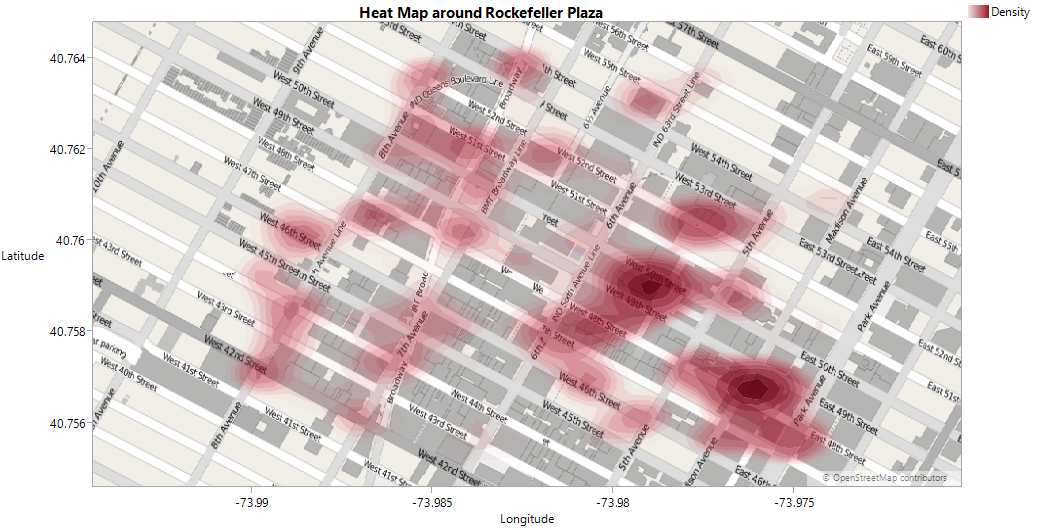 The heat map shows the spread and concentration of visitors in two localities (Rockefeller Center itself and 415 Madison Avenue) indicating large numbers of prospective customers.
Similarly, for offline marketing campaigns, visitation data combined with third-party demographic information can be used to promote offers in the right areas. For example, a KFC outlet near Rockefeller Center can analyze demographic data for visitors in the surrounding counties and launch targeted promotional offers in those areas to attract prospects that frequent the center. This approach can increase conversions while also reducing marketing spend, making it a cost-effective way to reach potential customers.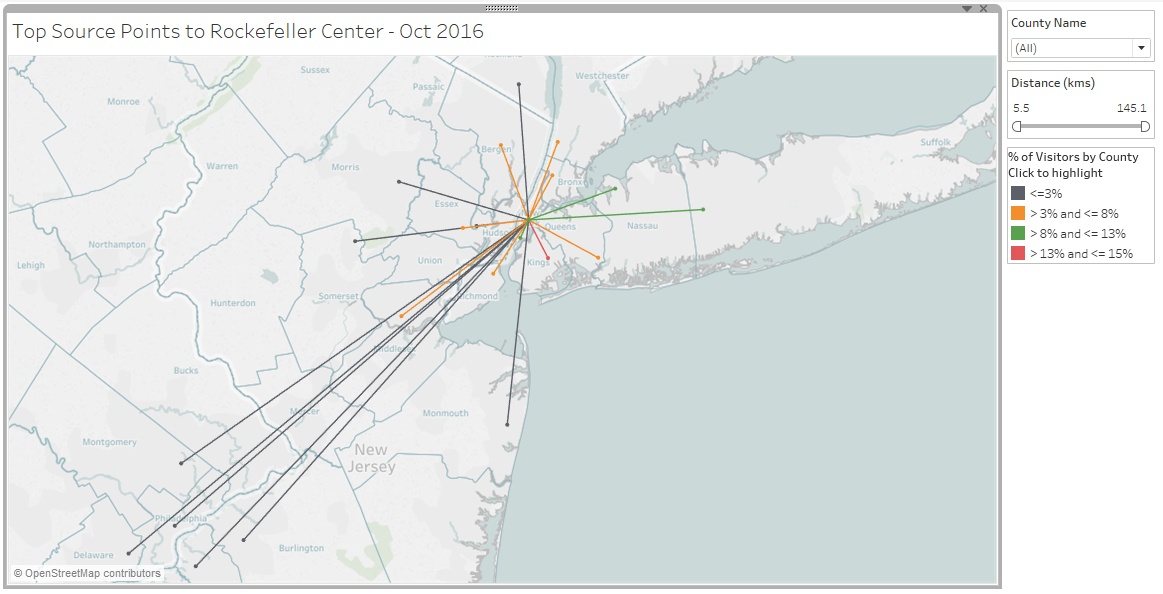 There is a KFC outlet located 300 meters away from Rockefeller Center. From the previous example, we know that Rockefeller Center itself has the highest number of prospective customers. Analyzing the corresponding demographic data (figure above) for those visitors between 11 am and 2 pm reveals that most of them are from the following counties: Kings County (15 percent, red), Suffolk County (11 percent, green), and Nassau County (9 percent, orange).
Gauging ROI on Out-of-Home (OOH) advertising

Analyzing footfall data is the most sophisticated and reliable means of measuring ROI on OOH marketing campaigns.
By leveraging mobile location data, OOH advertising companies can effectively measure marketing ROI. Creating virtual boundaries around OOH assets and studying movement trends around them can help measure foot traffic influenced by these ads. Analyzing mobile location data alongside sales data can create attribution models that connect specific advertising campaigns with sales results, providing a clear picture of how effective the OOH campaign was in impacting consumer behavior and revenue. Additionally, analyzing this data can provide insights into the demographics and behaviors of people who were exposed to OOH campaigns - helping companies optimize their ads and improve profitability.
Applied Post, a leading Canadian consumer analytics firm used this methodology to determine the impact of a liquor distributor's OOH advertisements. They created geofences (view cones) around billboards and the retail locations that were promoting on these media assets. By monitoring foot-traffic around the stores and billboards over several weeks, Applied Post was able to establish a statistically significant relationship between store visits and outdoor ads – thereby allowing their client to accurately assess ROI.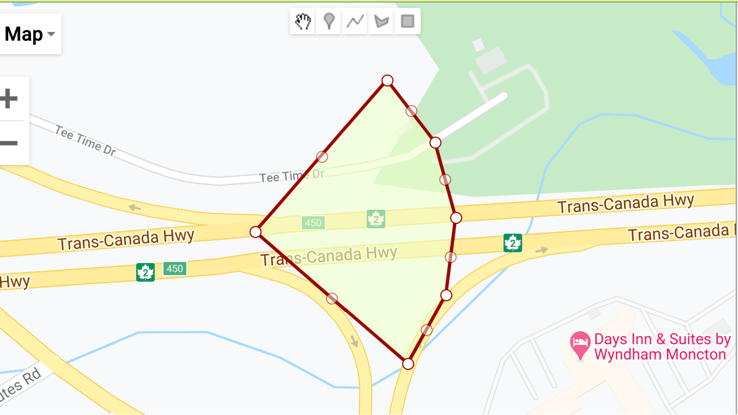 A viewcone geofence to estimate the influence of an OOH asset
Assessing, maintaining, and growing market share
Location data can be used by retailers to expand their market share by analyzing foot traffic to generate behavioral profiles for target audiences. With these insights, retailers can make strategic decisions about store locations, hours of operation, and marketing campaigns. Moreover, they can also redirect their rivals' customers towards their own stores to increase conversion rates and enhance customer retention.
PREDIK Data, a big data analytics firm, used mobility data to analyze the visitation data of two rival supermarkets in Mexico - thereby allowing their client to approximate competitor revenue and forecast sales cycles. Our customer, Applied Post, has conducted similar analyses to help a home improvement brand assess visitation patterns at their own and competitors' stores to generate behavioral profiles for target audiences. With these insights, they developed personalized offers that better engaged customers and redirected rivals' customers towards their own stores through geofencing. These firms use mobility data to provide competitive insights to and enhance customer retention for their clients.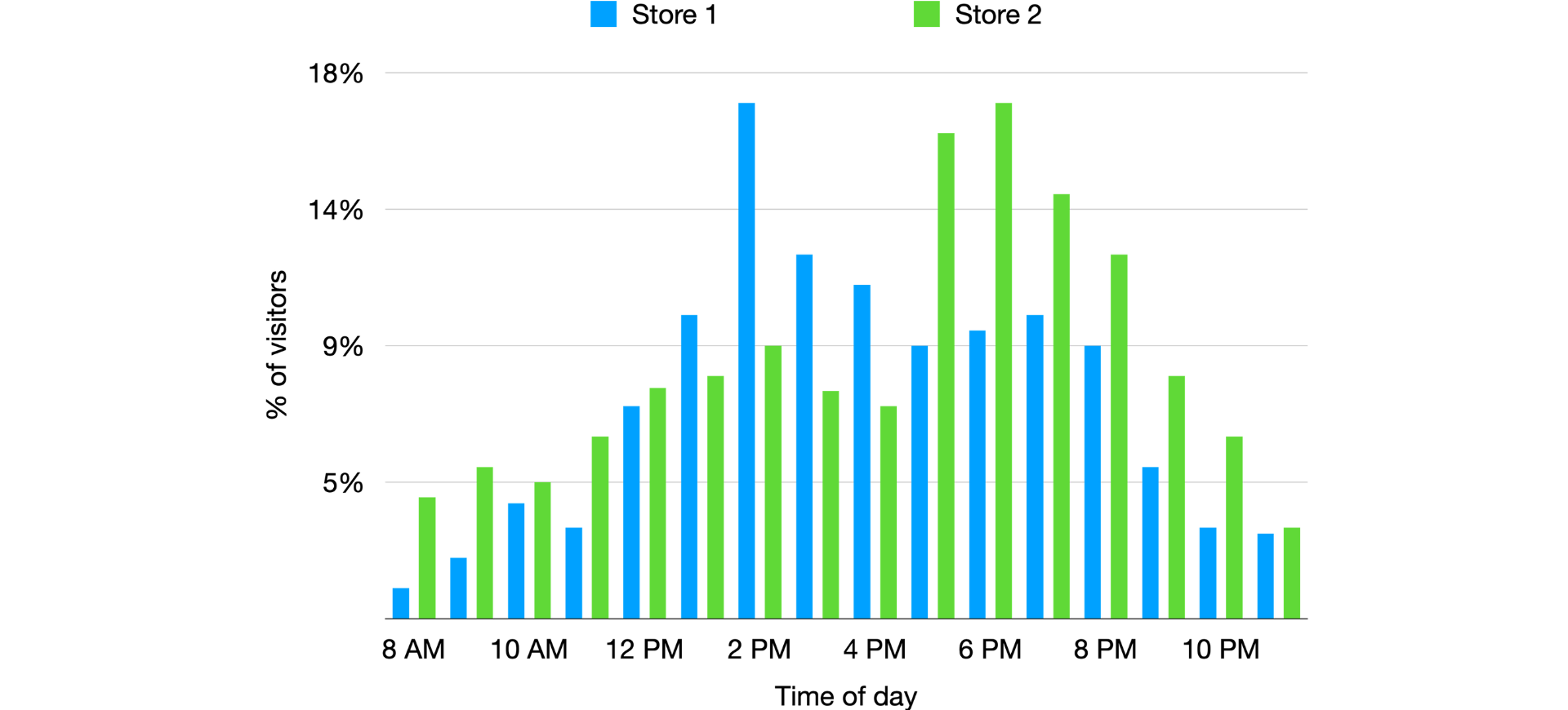 The figure above shows the distribution of footfall across the two hypermarkets by the time of day
Informing expansion and site selection strategies
Having real-time information on the distribution of target demographics gives retailers the ability to formulate successful expansion and site selection plans.

Mapoteca is a cutting-edge business intelligence firm based in Chile. They power their versatile and easy-to-use self-service analytics platform with Quadrant's mobility data.
OXXO – the biggest chain of convenience stores in Latin America – leverages Mapoteca's visualization tools to assess target audience saturation at microscopic (neighborhood) and macroscopic (city) levels! As a result, they can pinpoint underserved areas with the highest revenue potential for new stores and expansion opportunities. Grupo Rey – Panama's largest FMCG retailer – also utilizes Mapoteca's intelligence platform for similar purposes.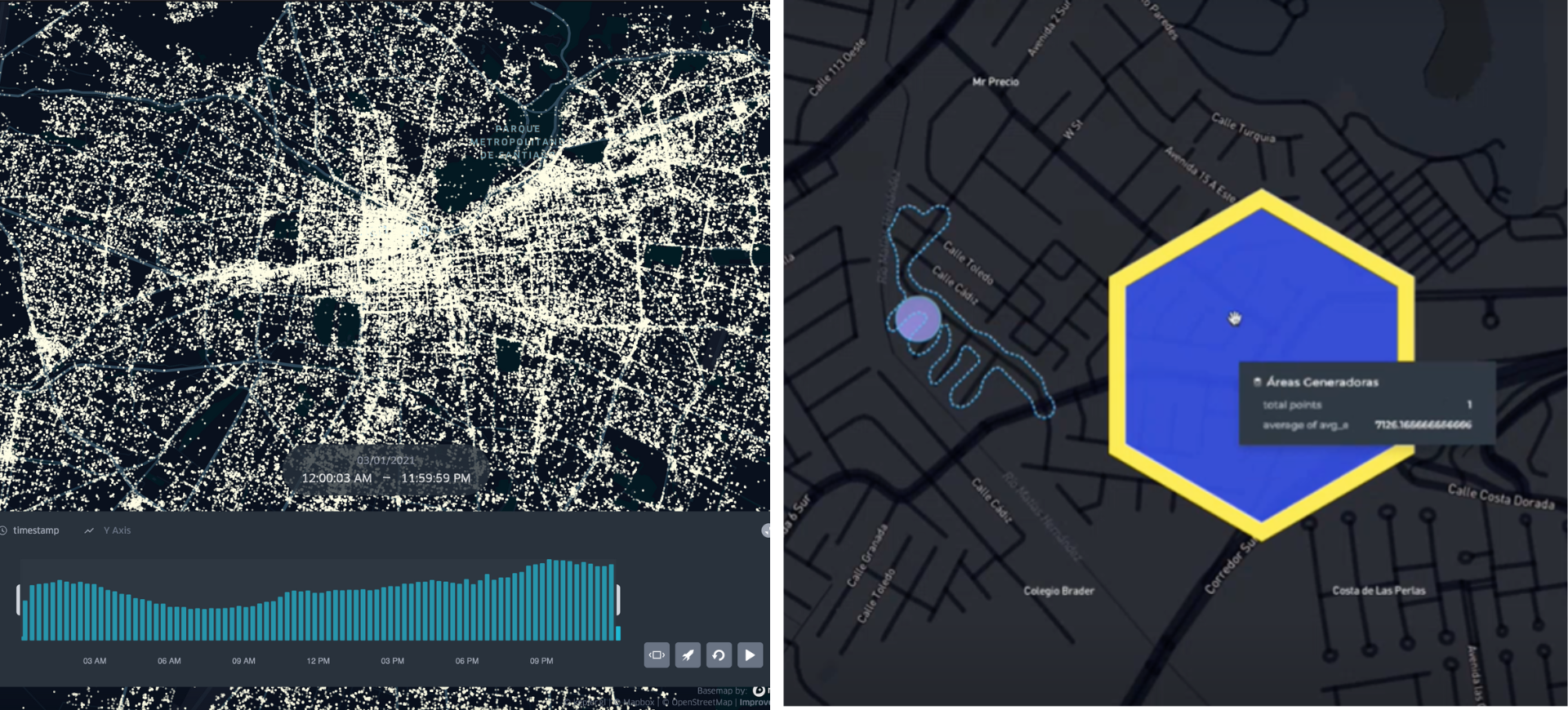 Image 1 (left) visualizes the movement of people in Chile during different times of the day. This allows OXXO to identify foot traffic hotspots to determine suitable locations to expand its presence. Image 2 (right) shows a geofence demonstrating the granularity of analysis coverage for a small neighborhood. The graphics shown are for illustration purposes only and may not be an exact representation of the analysis or platform.
Enabling Operational Gains
Optimizing Staff Allocation
Due to seasonal, monthly, and even daily fluctuations in customer traffic, maintaining the right number of personnel is a huge challenge for staff managers. Too many employees can lower profitability, while too few may result in subpar shopper experiences. Retail visitation data can enable HR managers to optimize staff allocation, and therefore, lower overheads.
In the following example, we look at footfall data around two McDonald's branches near Rockefeller Center (represented by the green spots in the figure below).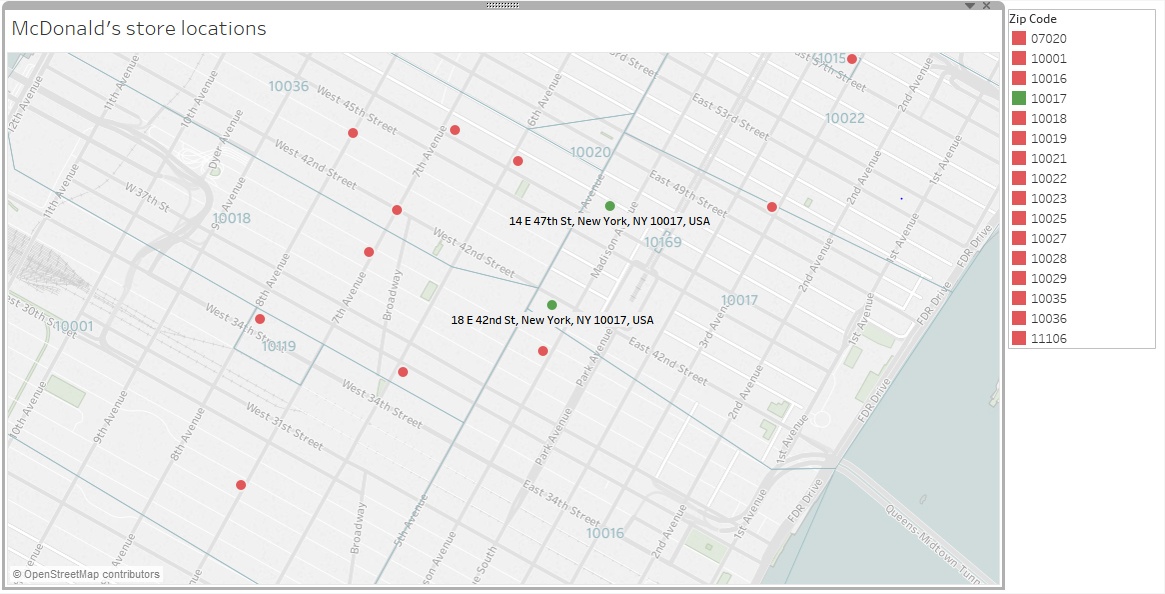 Should more staff be present on weekdays or weekends? This question can be easily answered by looking at footfall data around these stores.
The figure below shows the projected footfall per day on weekdays and weekends at these stores.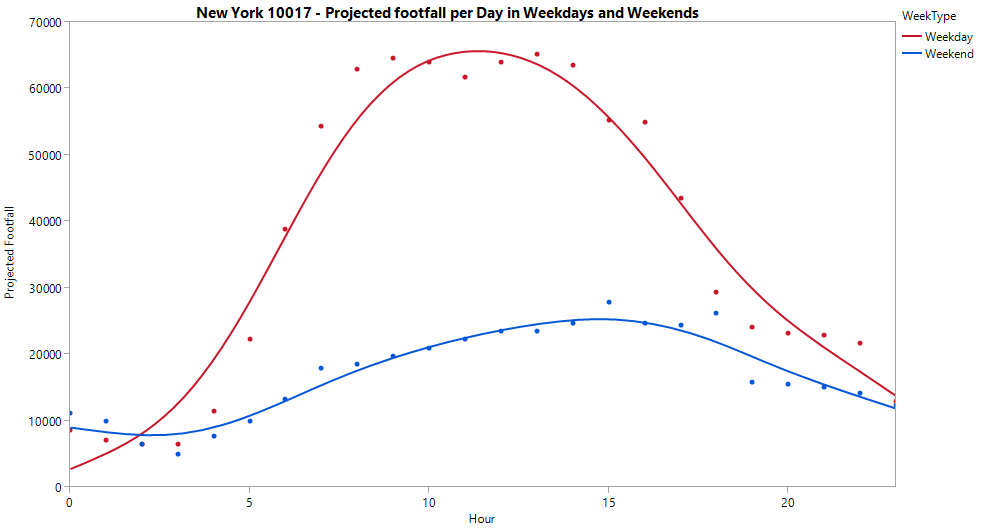 We see that the projected footfall per day on weekdays (red plot) is 117 percent higher than the same on weekends (blue plot). Additionally, the projected footfall on weekdays constitutes 84 percent of the total footfall in a week.
Based on this information, the Mcdonald's branches should retain more staff on weekdays than on weekends to decrease labor costs while ensuring customer experience remains unaffected.
Analyzing visitation data for longer periods allows retailers to identify monthly (or even seasonal) variations in consumer activity – knowledge that can be used to establish a flexible, long-term staffing strategy.
Location data provides valuable insights into the movement patterns of consumers in the physical world - which retailers can leverage in a multitude of ways to boost performance. Location intelligence enables brands to execute effective marketing strategies, measure ROI on OOH advertising, and make data-driven decisions to optimize operations. Therefore, it is a powerful tool for retailers that want to increase their profitability. With competition within the industry at an all-time high, retail businesses can leverage mobility data to enhance their decision-making and gain a competitive advantage.
---
Interested in leveraging our extensive, high-quality mobility data to improve your brand's profitability? Fill out the form below to speak with one of our data consultants!