Businesses catering to a community need to keep up with changes in the region's population, demographics, and cultural traits to remain relevant. In addition, urban spaces need to be constantly redeveloped to accommodate changing movement patterns. For example, real estate companies need movement data to discern the residential needs in growing neighborhoods. Public transport authorities need to monitor travel patterns to assess demand and expand transit services to underserved areas. The analysis of mobile location data can provide a clear image of human mobility, and changes in public interaction with businesses and government facilities.

Improving transit routes and infrastructure with actionable location intelligence
One of our customers, Civilia - an urban mobility intelligence company - combines deep transport expertise and cutting-edge AI capabilities to build community-centric solutions. Civilia uses location data to power their state-of-the-art AI platforms for parking, sustainable cities, smart vehicles, ad-tech, urban architecture, etc., helping city administrations to build efficient solutions.
For this project, Civilia partnered with Quadrant to help cities in Quebec Province (Canada) improve their public transit systems to meet the demands of their citizens. City administrators utilised the results from said analysis to adjust transportation services, improving the availability of buses, optimizing route planning, and expanding transit facilities to meet public needs.
Traditionally, Civilia relied on origin-destination surveys conducted by the Canadian government to conduct their analyses. However, these surveys only covered the main cities (not the rural areas) and are done every ten years. Therefore, Civilia sought a more reliable source of location data with adequate coverage in low-density regions.
Quadrant's location data helped monitor people's travel patterns over an extended period of time and space with high accuracy and precision. For example, Civilia estimated the origins and destinations for each user along a day and calculated the average number of trips per user per day. This analysis enabled them to build simulation models that helped the city determine citizens' needs and make accurate assumptions to improve their experiences and quality of life.
Using mobile location data and AI, Civilia developed trend reports and an O-D Matrix to study people's movement patterns and understand whether the current transit services fit the commuting requirements. Their data science experts mapped geofenced districts by population concentration versus the distribution of public transit services in these districts. Finally, using their learnings and findings, the transportation and urban planning team at Civilia formulated actionable advice.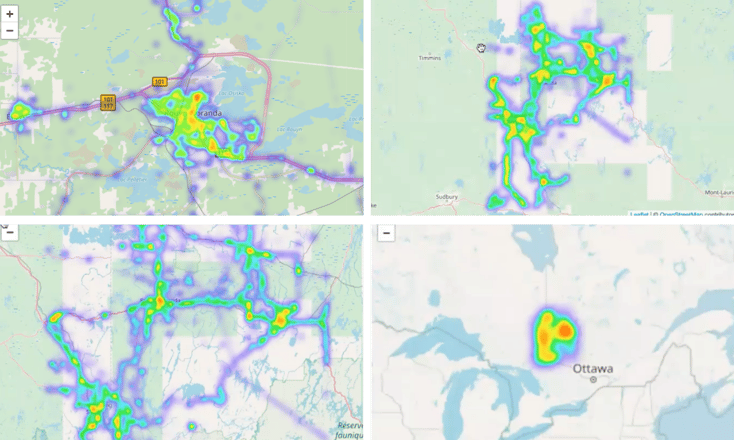 Heatmaps of movement data throughout a period to inform analysis models and assess demand based on travel patterns
"Quadrant location data has been of pivotal value for improving public transportation in dense and remote rural areas. We chose Quadrant for the high level of care and data quality. In addition, their expertise in the use of geolocation data, availability of technical support, flexibility in pricing and addressing customized requests, and their diligence for data privacy regulations have made Quadrant a first-hand partner for our company."
– Chief Technology Officer, Civilia
---
Download the full case study to learn more about how Civilia made the most of Quadrant's mobile location datasets.
Interested in discovering how your business can benefit from mobile location data?
Fill in the form below and one of our location data experts will get in touch with you!