Earlier this year, we announced that Quadrant had successfully amassed over 1 million Points-of-Interest (POI) using Geolancer, our cutting-edge data collection and verification platform. At the time, our mapping initiatives were gathering a lot of steam as we rapidly scaled our operations to fulfill the soaring demand for accurate and bespoke POI datasets. In line with our projections, this demand has surged even further, prompting us to accelerate our global mapping efforts.
We are thrilled to share that we have now reached the 2 million POI mark!

Here, we discuss some recent mapping projects, why Geolancer is so effective for real-world data collection, and how it will evolve to support a wider range of use cases.


Recent Mapping Activities
Over the past months, we've launched several mapping campaigns across diverse markets. In India – a country for which reliable location information is scarce - we verified data on thousands of retail outlets during a pilot project for a global mapping company. By enhancing and validating the client's commercial POI database for dozens of cities, we enabled them to improve their search and navigation platform in a critical market, in merely two weeks.

Another customer (also one of top five global mapping providers) was so impressed with the quality of our data that they commissioned us to produce residential POIs for Indonesia. In this project, we mapped 95% of the residential properties across three cities (Bekasi, Bali, and Depok) in just two weeks.

Our abilities to scale and deliver datasets rapidly while preserving the essential pillars of our offering (quality, customization, & affordability) is what distinguishes us from industry peers.
Demonstrating Geolancer's efficacy as a real-world data collection and verification platform
Our innovative approach to in-field mapping allows us to offer a bespoke, high-quality, scalable, and cost-effective POI solution. Geolancer is a mobile app that allows users to collect ground-truth data in exchange for crypto-rewards. This localized, incentive-based mapping method is helping many people improve their financial well-being. That's why our users map thousands of locations daily across the markets we serve.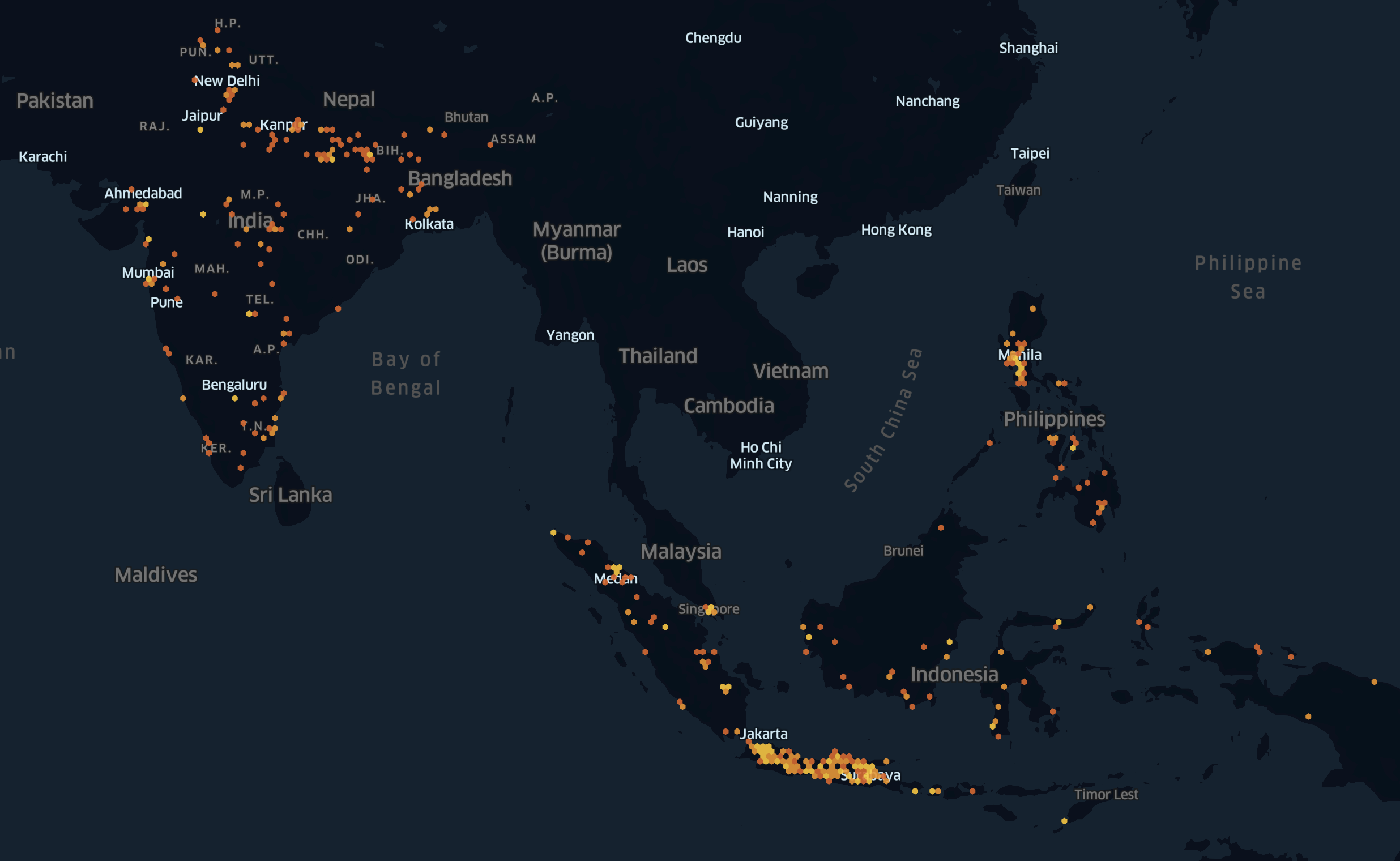 This heat map above represents the density and distribution of users - 'Geolancers' - across India and APAC over the past 3 months.
Given the significant traction our mapping efforts have gained in the countries shown above, we plan to launch Geolancer in Thailand, Vietnam, and Malaysia in the coming quarter.

What's next for Geolancer?
Due to our enticing rewards-based model, we can scale data collection and verification projects in new areas with minimal overheads. This opens doors for a broad range of use cases and applications that Geolancer's real-world data offerings can cater to. We are striving to expand Geolancer's capabilities so that we can serve a substantially broader array of industries.
Beyond groundtruth location information, Geolancer is a multifunctional platform that can be leveraged to generate and verify other forms of data as well. The app will soon be able to capture audio, video, and image data for specific use-cases, on-demand. As a result, we will be able to equip numerous companies with essential data to drive innovation across computer vision, autonomous driving and delivery, augmented reality (AR) & virtual reality (VR), and more.
We are also innovating to further strengthen our commitment to quality, customizability, transparency, and compliance. Data collected via Geolancer is subject to rigorous quality control measures (in-house) to ensure accuracy and relevance for our clients – just like our existing location data offerings. We continue to uphold the highest standards for handling user-generated datasets. We aim to become the one-stop shop for firms in need of high-quality, use-case-specific, and varied datasets.
---
Need to collect top-notch real-world data?
Fill out the form and chat with one of our savvy data consultants!